Praising God While You Grieve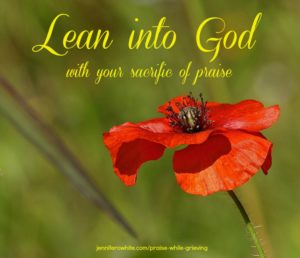 * You may not be grieving today and feel this post is not for you. But I want to encourage you to prepare for the day you might have much to grieve. This post can help you encourage others who are grieving. If you know someone who is grieving, please consider sharing this information or post with them.
Grief. It's rather difficult to escape this life without having experienced it. So many of my friends and relatives are grieving the death of one they loved dearly. One sweet friend lost her daughter after almost two years in ICU. A 10-year-old boy I love and admire lost his dad in a tragic car accident. My cousins lost their parents within six weeks of each other. My dear friend died last November after three different cancers ravaged her body.  
Grief Should Not be Denied
I'm learning how to grieve. Expressing grief is one of the ways I've struggled to live authentically. Unfortunately, I developed a habit of denying myself permission to mourn. I think I expected myself to be stronger than those emotions. Frankly, I just didn't know what to do with them.
Thanks to the GriefShare program at my church, I'm realizing that I can't ignore or deny grief to run its course. If you are grieving, I hope that you are allowing yourself the space to be sad and mad and undone even though it feels absolutely awful.
Griefshare explains that lamenting is actually an act of faith. When we confess our heartache to God we are acting on our assurance that He cares about us and wants us to confide in Him. Communicating our deepest heartaches to God is productive because He is truly able to help us. He is our Wonderful Counselor, Comforter, and ever-present help in times of trouble.
The psalmist often lamented to God. We can assume he did so in faith that God is listening and could help him. Here is one example:
I am faint and severely crushed;
I groan because of the anguish of my heart.
Psalm 38:8 HCSB
Praising God During Our Grief
Mourning is necessary. But let's add praising God to our agenda during the grief. While praising our Lord is a vital part of our life with God, I believe it is also is a way we can minister to our own souls.
Sadness can cause our minds to continually focus on what is wrong and how we feel. The thoughts and feelings aren't wrong, but the temptation to zero in on ourselves can lead to even more problems.
God invites us to focus on Him and promises that peace will be the result.
You will keep the mind that is dependent on You
in perfect peace, for it is trusting in You.
Isaiah 26:3 HCSB
Emotional anguish should lead us to recount our dependence on God as our source of help. But let's not forget that we have a spiritual enemy who would like to lead our thoughts away from God. He would love for us to lose confidence in God. Our heightened emotions may cause us to be vulnerable to these ideas. So we need to train ourselves to praise God regardless of our emotional state.

Recalling God's faithfulness, extravagant love and mercy helps us focus on what will always be right with our world. (click to tweet)
Here are two great encouragements to get your praise on no matter how heavy your heart is today.
"Worship will get you through
the roughest times of your life,
because it shifts your focus
from the problem to the problem solver!"
Anonymous
"As we focus our time and attention on the Lord in worship,
proclaim His place of honor in our lives, and thank and praise Him
for His eternal promises, we can expect God to intervene
in our circumstances. God has promised to inhabit
our worship, and He will. And when the King
is present, all things are possible!"
Mike Harland & Stan Moser
Let the Bible Lead Your Praises
Within those quotes we find prompts for praising our God. Let's use the following Scripture based praises to focus on our King and reach for the perfect peace He is always offering.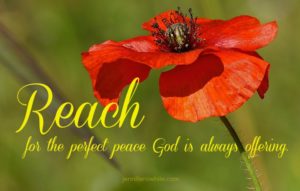 I worship You, the all-knowing God. You know all things about me. I rejoice that You hold my life in Your hands. (Hebrews 4:13, Job 12:10)
I honor You, Almighty God, as the Victorious Warrior. You are mighty to save me. I put my hope in You. (Zephaniah 3:17, Romans 12:12)
You are the One I praise, Oh God. You are my refuge and my strength. I will tell of Your amazing faithfulness to me and others. (Psalm 9:1, 46:1, 73:28)
What a faithful God You are to me. You are still keeping promises that You made thousands of years ago. You lavish Your love on those who love You and obey Your commands. (Deuteronomy 7:9)
You are the merciful One, Oh God. In mercy You gave me Jesus who sacrificed everything for me. You replenish my life with Your mercy daily. You chase me down in order to give to me what I do not deserve and can not earn. Glory to You, my generous God. (1 Peter 1:3, Lamentations 3:23, Psalm 23:6, 103:4)
I worship You Lord, my Wonderful Counselor, my Provider, and Comforter. You are my portion. There is nothing I need that You cannot provide. I trust Your love for me is greater than I can imagine. (Isaiah 9:6, Genesis 22:14, 2 Corinthians 1:3-5, Psalm 119:57, Ephesians 3:18-19)
You God are the Creator of all things. I cannot fathom the extent of Your creativity. But I trust that all things are possible because there is not limit to what You can do. (Colossians 1:16, Matthew 19:26, Luke 1:37)
Exercise your praise muscle.
I've learned that grief can cause concentration problems and so much more. It may be hard for you to pray or to read the Bible and remember what you've read. If that describes you, you may find listening to praise music helpful. You can also have someone read praises to God for you. In both cases, you can simply utter a "yes" in agreement.
When you have the energy, you can create your own praises one Bible verse at a time. Here are a few Bible verses to help you lean into God with Your own sacrifice of praise.
Isaiah 12:2
Psalm 142:5
Psalm 27:13
Psalm 56:3
Psalm 34:18
Psalm 147:3
1 Peter 5:7
Psalm 73:26
Do You Need Prayer?
If you would like prayer for the grief you are experiencing, please mention your name and the reason for your grief (if you want) in the comments. I would be delighted to petition the Holy Comforter on your behalf.
About Jennifer O. White
I'm a simple wife who has discovered God's amazing gift of prayer. Here at Prayerfully Speaking I share my journey of unwrapping this gift. God invites us to ask Him, but His enemy works diligently to keep that from happening. I hope to offer you encouragement to believe God is ready to pour more into your life than you've ever imaged.