New Blog Series: Let's Praise Him!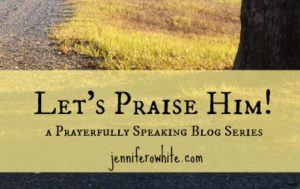 Praise is the Answer
Whatever your current situation is … the perfect thing to do in it is Praise God. You could be gazing at the beauty of this day. You might be wondering if life as you've know it is over. Either way, praising God is the best answer.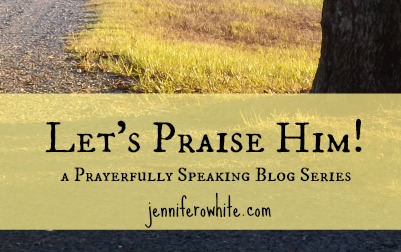 He is worthy to be praised.
All of the people in your life may deserve recognition for kindnesses and good deeds. If so, praise Him because every good gift is from Him (James 1:17)
You may be longing for one person in your path to show one ounce of goodness. If so, praise Him because His goodness and kindness follows You everywhere, everyday! (Psalm 23:6)
You maybe hoping someone sees your worth and praises you. If so, praise Him because He established your worth when He created you and He confirmed it when Jesus died for you (John 15:13).
In all of these circumstances and those in between, there is ONE WHO DESERVES PRAISE.
One of the best ways to overcome depression, anxiety, and fear is to remember Who God is and focus on His goodness.
Bless the Lord, O my soul, and all that is within me, bless his holy name! Bless the Lord, O my soul, and forget not all his benefits, who forgives all your iniquity, who heals all your diseases, who redeems your life from the pit, who crowns you with steadfast love and mercy, who satisfies you with good so that your youth is renewed like the eagle's. Psalm 103:1-5
Let's Praise Him together
For the next four weeks, you will find praises to our Creator, Lord, Master, King, and Friend here. Join me and friends of Prayerfully Speaking as we
address one another in psalms and hymns and spiritual songs, singing
and making melody to the Lord with our hearts giving thanks always
and for everything to God the Father
in the name of our Lord Jesus Christ
Ephesians 5:19-20
Let's start Praising Him together today. In the comments below, post your praises to God. It can be your own words, verses from a song,  a link to a praise song to Him, and scriptures that tell of His goodness.
About Jennifer O. White
I'm a simple wife who has discovered God's amazing gift of prayer. Here at Prayerfully Speaking I share my journey of unwrapping this gift. God invites us to ask Him, but His enemy works diligently to keep that from happening. I hope to offer you encouragement to believe God is ready to pour more into your life than you've ever imaged.