Courageous Prayers: Elijah's & Yours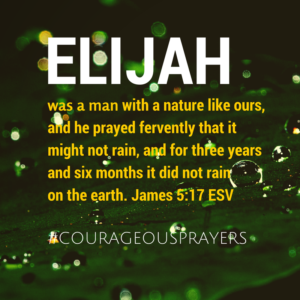 Elijah was a man with a nature like ours, and he prayed fervently that it might not rain, and for three years and six months it did not rain on the earth. James 5:17 ESV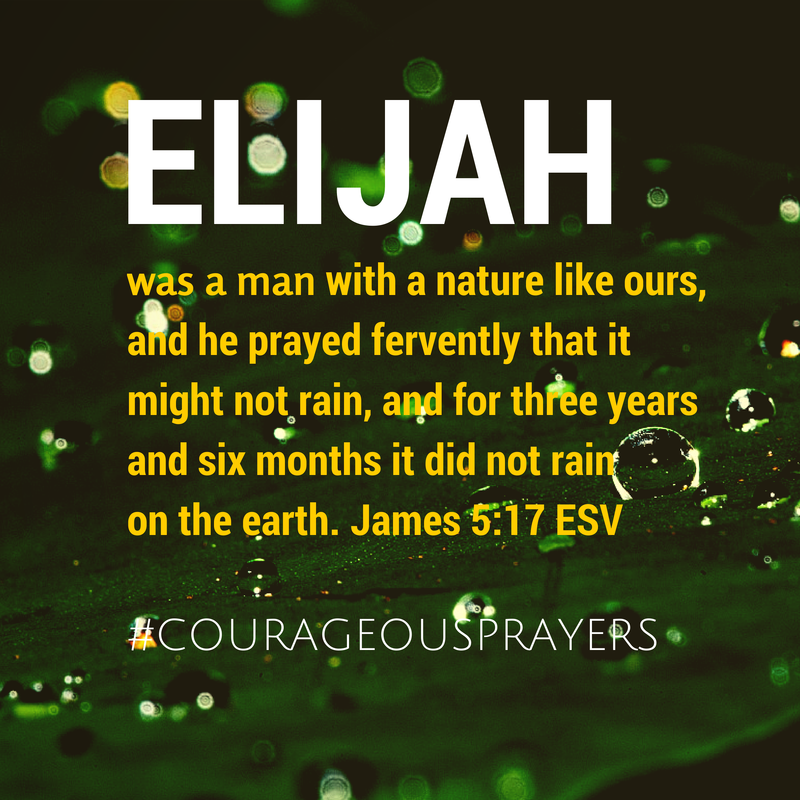 This is my new memory verse.
Want to join me in meditating on the fact that we, like the prophet Elijah, have the same ability to pray powerful prayers that God will answer?
Last week in the ladies Bible study that I attend, our worship leader prepared us to sing You Make Me Brave with the story of Elijah's bravery. Do you remember how he stood before King Ahab, God's enemy?
 "Ahab did more to provoke the LORD, the God of Israel, to anger than all the kings of Israel who were before him." 1 Kings 16:33
Not only was Ahab ruling a nation without God's ways or pleasure, he married Jezebel, the daughter of Ethbaal. This was an equally yoked marriage of the evil kind! Do you see what I see in that name? My study bible notes indicate that Ethbaal means "Baal is alive" and that he was a priest to two other gods. He was also the reigning king of Phoenicia.
Baal, the god they worshipped, means "lord, husband, owner." Wow! This is an exact counterfeit of our relationship to Christ – our Lord, our Bridegroom. Baal was the storm god supposedly in charge of delivering the rain needed for the crops. (*MacArthur Study Bible notes -1 Kings 16:31-32) Another counterfeit! – God is our provider, but these people wanted Baal to provide!
Elijah had the courage to pray (declare) and represent God face to face with this rotten ruler with super evil allies like Ethbaal.
Who in your life, in this nation and in this global economy would you compare to Ahab? I've bet you've got a few in mind. I'm thinking of a few individuals I know, a person who was recently jailed for trafficking children in Louisiana, and this ISIS group who freely beheads innocent people. Am I brave enough to stand in front of these souls with a message straight from God? Am I listening to God so much that I would hear Him tell me to go? Would you?
This verse (and the song) is echoing in my mind:
A voice cries: "In the wilderness prepare the way of the LORD; make straight in the desert a highway for our God. Isaiah 40:3 ESV, emphasis mine
Elijah, like John the Baptist, was an obedient voice preparing the way of the Lord for God's people. They had lost their way and he was willing to go against a really BAD dude so they (Israelites) could see God as more powerful than any other god. How could he have that much courage?
I believe Elijah's courage came from his confidence in God! Elijah must have had a deep and abiding relationship with God. How else would he have been inspired to address an evil king? How else did he know to declare there would be no rain for three years?
You and I have a relationship with the God who gave Elijah words to declare – to pray – over a nation. Is God inviting you to pray or declare His truth over someone, a city, or even a nation?
We can easily get discouraged with thoughts like: "I don't know what to pray", "the world is in such a mess – where do I start?", and "when will I'll have time to pray?" Those are the enemy's arrows aimed at distracting you from carrying out God's plan, His will. This enemy is the author of confusion and he is especially interested in distracting you from praying.
Here's how I am learning to deal with those distractions when I get the prompting or invitation to pray. I simply reply to God, "How do you want me to pray for _________" and then I leave the answer up to Him. Sometimes it takes just a few minutes for me to have a thought on how to pray for them. Sometimes it's hours or days later. But God faithfully answers that simple prayer. It doesn't seem like a super courageous move on my part. But there is courage in relying on God to show you how to pray.
How does the enemy discourage you from praying and relying on God? Where is he calling you to courageously declare His name and faithful character? I'm praying for both of us to respond obediently and courageously.
About Jennifer O. White
I'm a simple wife who has discovered God's amazing gift of prayer. Here at Prayerfully Speaking I share my journey of unwrapping this gift. God invites us to ask Him, but His enemy works diligently to keep that from happening. I hope to offer you encouragement to believe God is ready to pour more into your life than you've ever imaged.