Pray the Word: Get the App!
Praying the Word has had a monumental impact on my spiritual life.
What about yours?
Praying Scripture based prayers is offensive spiritual warfare. It is POWERFUL in the spiritual realm. Praying God's Word back to Him is using the Sword of the Spirit to slice away the enemy's lies (schemes) that hold us captive, stuck, in bondage.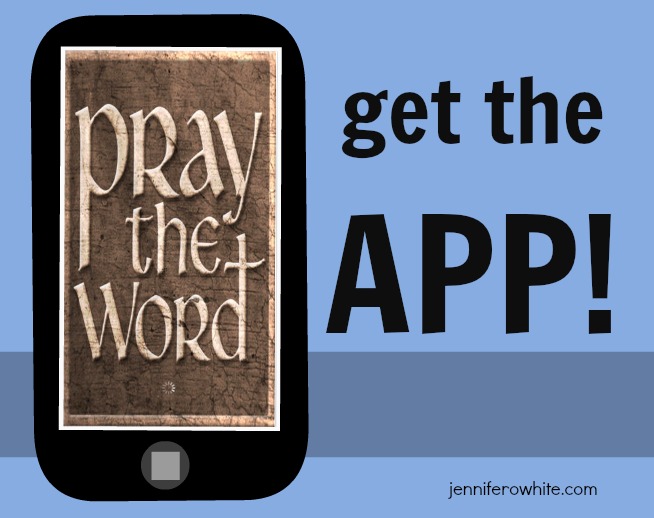 Pray the Word is a free smart phone app (iTunes & Android) packed with powerful prayers that are straight from the Bible. Here is a sample to whet your prayer appetite:
"I am so very aware of my weakness and confess that I am not sure that I know what loving you with all my strength even looks like. 
Father, You know that I rarely love others as I love myself. Forgive me Lord. 
Have mercy on me and change me O God! May my life be marked by deep heart-belief and mouth confession that Jesus is Lord. Keep me I pray from self-imposed, outward moral reformation that leads to joyless, disempowered living. Instead, may I be continually, spiritually transformed, conformed to the character of Jesus, that the reflection of His glory may be seen in me, and others drawn to Him. Change me from the inside out, I pray."
You will find categories of prayers including:
Daily Prayers
Search by Title
Putting on the Armor of God
Prayers for the Body of Christ
A Prayer for Pastors
Prayers for Neighborhood, City and Nation
Prayers for Lent
Prayers for Advent
I also recommend the book, Prayers that Avail Much by Germaine Copeland. It is an incredible resource – an encyclopedia of prayers for more situations than you can imagine.
Sneak Peak
I am enjoying writing to inspire new brides to pray the Word. Feel free to share this Scripture based prayer excerpt from my forthcoming book: Prayers for New Brides, Putting on the Armor After the Wedding Dress:
I choose to be _________'s encourager. With Your wisdom, I will affirm _________'s leadership in our home. My eyes will see and my mind will feast on things in him and our marriage that are admirable, noble, and praiseworthy. When fear of lack and harm knock on the door of my mind, my lips will proclaim Your goodness, Your provision and protection for us. Your love and kindness is better than life itself. (1 Thessalonians 5:11, Philippians 4:8, Psalm 107:22, Psalm 63:3)
Do you feel confident praying the Word back to God? Have you experienced breakthrough by doing so?
About Jennifer O. White
I'm a simple wife who has discovered God's amazing gift of prayer. Here at Prayerfully Speaking I share my journey of unwrapping this gift. God invites us to ask Him, but His enemy works diligently to keep that from happening. I hope to offer you encouragement to believe God is ready to pour more into your life than you've ever imaged.