Stepping Out of Your Prayer Comfort Zone
In my last post, I shared how Margaret reluctantly said "YES" to God's prompting to start a prayer support group for cancer patients. She was nervous about praying out loud with people and God called her out of that comfort zone. God was very patient and very persistent with her. Her obedience to Him has already impacted at least 75 people who can now share the same with others. Just imagine what God will do when the prayer group starts next week!
I want to be brave enough to be different, like Margaret and like my friend Sundi Jo who you will read about in a few minutes.
God has been drawing my attention to that fact that my fear of people often trumps my desire to obey Him. It's a Fear of Man vs. Fear of God thing that we all find ourselves in at some point in our faith journey. I think if we talk about it openly, we will gain more courage.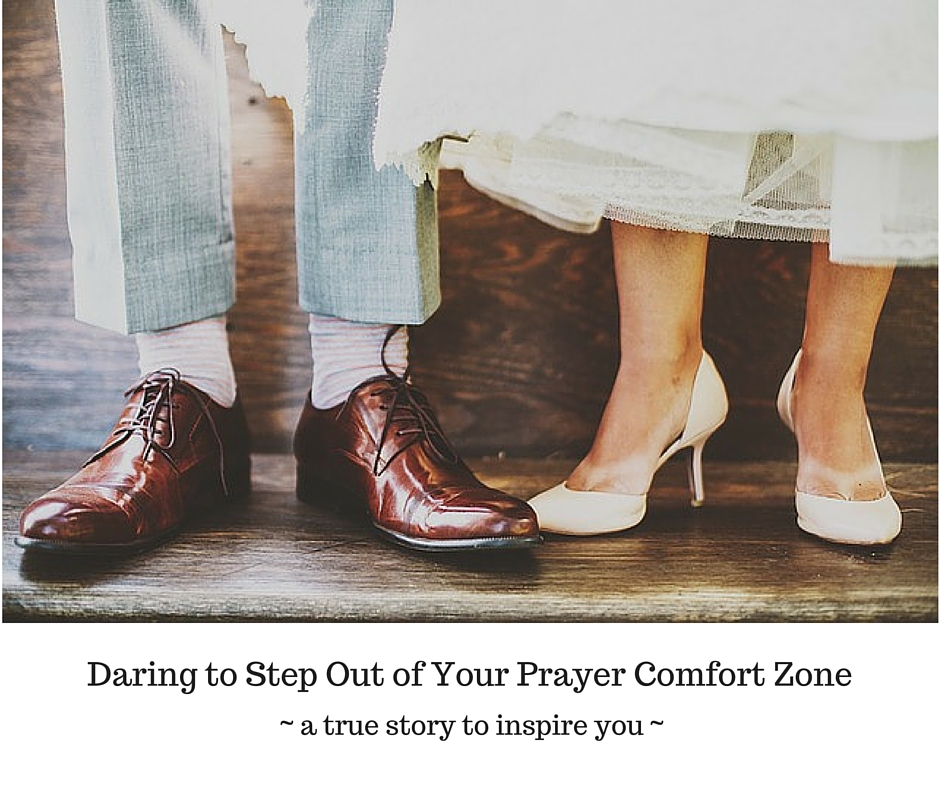 Within the Church, we sometimes find ourselves struggling to fearlessly act on our belief in God because of what others might think or say. I have really struggled with it. I find it hard to share the dreams and visions God gives me with some people because  – what if they don't believe me? question me? talk about me?
I know I'm not alone in feeling this way. I know that there is an evil force, sometimes referred to as the spirit of unbelief, that works to drive a wedge between what we know in our heads and what we really believe with our whole hearts. This is how we, God's chosen people, sometimes find ourselves having a form of godliness without any of the power.
They will act religious, but they will reject the power that could make them godly. Stay away from people like that! 2 Timothy 3:5
Before I embarked on this life-transforming journey of learning to fear (respect) God as the ultimate authority, 2 Timothy 3:5-7 described my life perfectly. I was not praying or relying on Him and I was not experiencing His power. My life did not look much different than the unbeliever. My words might have been different, but my actions were far too similar.
I'm growing in my ability to exalt God's Word and will over my own wisdom, and I have seen God deliver His presence and His power into my life. Every time I have admitted a weakness to Him and asked for His help, He has faithfully strengthened me with His power. The results were not realized instantly but I am learning to expect them. Today, I know and trust Him as my Deliverer. In my conversations with Him, we talk more about my desire to be delivered from whatever is currently causing me to react despairingly, cowardly, passively, joylessly, and/or hopelessly.
Then they cried out to the LORD in their trouble, and he delivered them from their distress. Psalm 107:6
Intimidation is one of the schemes in this ongoing battle to believe and pray. I have given in to this scheme often. When I am intimidated by the very real or imagined possibility of being rejected, I am tempted to be passive. I am tempted to resist the leadership of the Holy Spirit. I am tempted to cooperate with a scheme that hinders the release of God's power and evidence of His presence. And I am not alone.
Many people did believe in him, however, including some of the Jewish leaders. But they wouldn't admit it for fear that the Pharisees would expel them from the synagogue. For they loved human praise more than the praise of God. John 12:42-43 (emphasis mine)
Satan will use the quiet whisper of an intimidating thought to stop us.  Some days the thoughts bombard us like a hailstorm. Then there are days he finds someone to cooperate with his schemes to intimidate us and they release his discouragement through their mouths and their body language.
Proverbs tells us that cowering to men instead of God is a trap, a snare. Look at the promise attached to putting our confidence in God.
The fear of man brings a snare, But whoever trusts in and puts his confidence in the Lord will be exalted and safe. Proverbs 29:25 AMP
My friend, Sundi Jo, inspires me to simply obey God even when public humiliation is at stake. In this video she shares how she stepped out of her comfort zone and prayed with a stranger in Starbucks. God allowed her to see multiple blessings come from that one choice to fear God over the praise (or lack of ridicule) of strangers in a coffee shop.
The WOW of God was released into many different lives when she simply said "NO" to her pride and "YES" to God. All she needed was a few seconds of courage.
I see Proverbs 22:4 at work in this act of humble obedience.
The reward of humility [that is, having a realistic view of one's importance] and the [reverent, worshipful] fear of the Lord is riches, honor, and life. 
God is the only one who can give us a realistic view of our importance. He helped Sundi Jo see how valuable she is His in quest to help people see Him and receive from Him. He helped her to see how unimportant people's opinions of us are in light of what God wants to accomplish. With her story, He is helping me do the same.
Can you see how Sundi Jo's fear (respect) of the Lord is now leading to His riches, His honor, and His life being poured into the lives of those she met in Starbucks. God's power has been released into their lives because Sundi Jo stepped out of her comfort zone and prayed in a public place. It's like she stepped through the threshold of heaven and brought the people around her into God's presence. Everyone in her story is now more aware of the wonder of God.
May our patient and persistent God pursue us until we are all living out Joshua 1:9 in the Starbucks line, at home, at work, and everywhere else.
Have I not commanded you, Jennifer? Be strong and courageous, Jennifer! Do not be terrified or dismayed or intimidated Jennifer, for the Lord your God is with you wherever you go. (my paraphrase and personalization)
About Jennifer O. White
I'm a simple wife who has discovered God's amazing gift of prayer. Here at Prayerfully Speaking I share my journey of unwrapping this gift. God invites us to ask Him, but His enemy works diligently to keep that from happening. I hope to offer you encouragement to believe God is ready to pour more into your life than you've ever imaged.