Praying for Our Husbands & Book Update {Marriage Monday}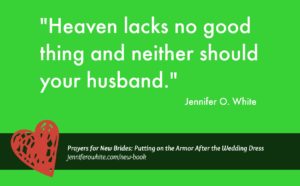 It's Monday. Let's Make it a Hope-Filled Marriage Monday
Here is your dose of HOPE from God's Word and my upcoming book,  Prayers from New Brides: 
Remember, Jesus taught us to pray for life on earth to be as it is in Heaven (Matthew 6:10). With His death and resurrected life, Jesus put our name on all the resources of Heaven.
Blessed be the God and Father of our Lord Jesus Christ, who has blessed us in Christ with every spiritual blessing in the heavenly places, (Ephesians 1:3)
Heaven lacks no good thing and neither should your husband.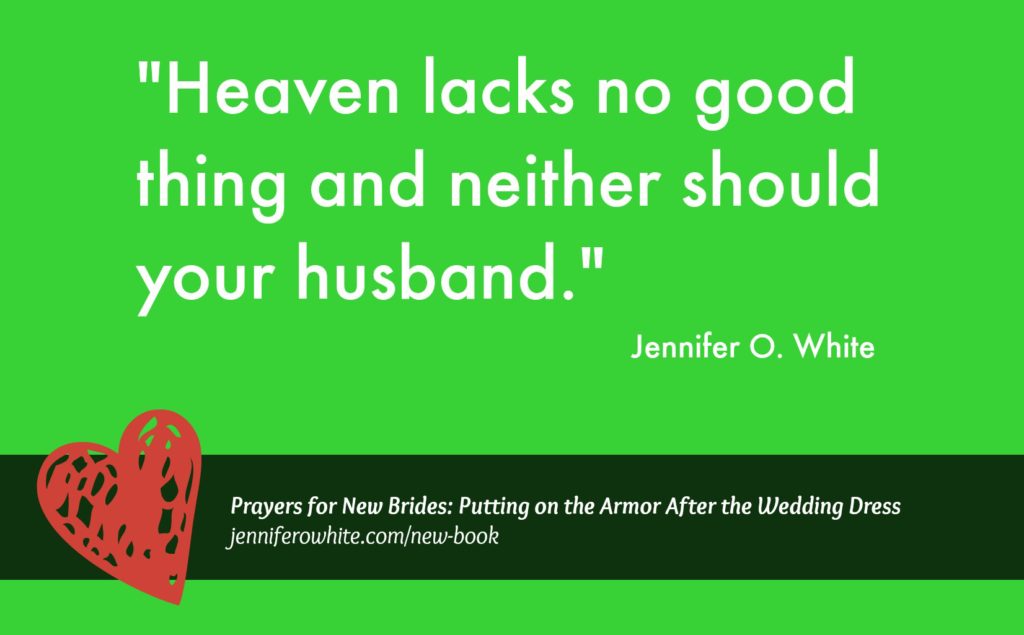 Interceding for Your husband is a history-changing act of love.
As his wife, you have earned a front row seat to his spiritual battle. You will witness the blows to his ego, the doubts, the temptations, and devastations. You will see the successes, the temptations to coast, to rely on himself, and to work for the world's applause.
Jesus sees it from your perspective and God's. He knows exactly what God is capable of doing to guide, defend, correct and protect your husband. He is seated next to God interceding for your man (Romans 8:34) and He invites you to join Him in the work of prayer.
Book Update 
While working at New Leaf Publishing Group, I met so many people in wild pursuit of God's fame through writing, blogging and teaching. I've sent the unedited manuscript to a few of them for review. The result brings me to tears and makes me even more sure that God has ordained this project. This is one of the latest endorsements I've received:
Your wedding day will forever be an unforgettable time stamp of the pure love God impressed on your heart for your husband. Unfortunately, your wedding day is just that… a day. After vows are spoken and the honeymoon taken, real life as a married couple begins. God's vision for your marriage is for your love story to be deeply rooted in Him in order to stay deeply in love with your husband. Prayers for New Brides, Putting on the Armor After the Wedding Dress by Jennifer White gives you seeds to begin growing those roots and a love that will last till "death do us part."
Justin and Trisha Davis
RefineUs Marriage Ministry 
Let's pray for our husbands.
Jesus help us into the mighty rivers of Your grace and love and keep us there. In Your presence, we will hear Your voice and know how to pray for our husband. Shepherd us to stay deeply in love with our man. Teach us to intercede for him with a pure and serving heart. You died to give him an abundant life. Let the extravagance of heaven be his today. In Your Name Jesus, we pray. Amen
About Jennifer O. White
I'm a simple wife who has discovered God's amazing gift of prayer. Here at Prayerfully Speaking I share my journey of unwrapping this gift. God invites us to ask Him, but His enemy works diligently to keep that from happening. I hope to offer you encouragement to believe God is ready to pour more into your life than you've ever imaged.