Start Every Day with these 6 Simple Prayers
You already know that I am passionate about praying God's Word. When I find prayers within His Word, I know to pay special attention to them. In today's post, I'm sharing 6 simple prayers I discovered thanks to Lyn Smith's Psalm 119 Bible study.
Lyn is one of my dearest friends and the first person I turn to with my Bible questions. The two of us meet via phone twice a week to pray for God's anointing on both of our books. Lyn is known as a Bible Activist meaning she is passionately helping us activate God's Word in our lives.
Her study, WORD: Psalm 119 is a catalyst for knowing God through His Word. It is set up as a 6 week study with daily Bible reading, teaching and thought-provoking questions. As I worked through the book, this Life Lesson based on Psalm 119:33-40 grabbed my attention: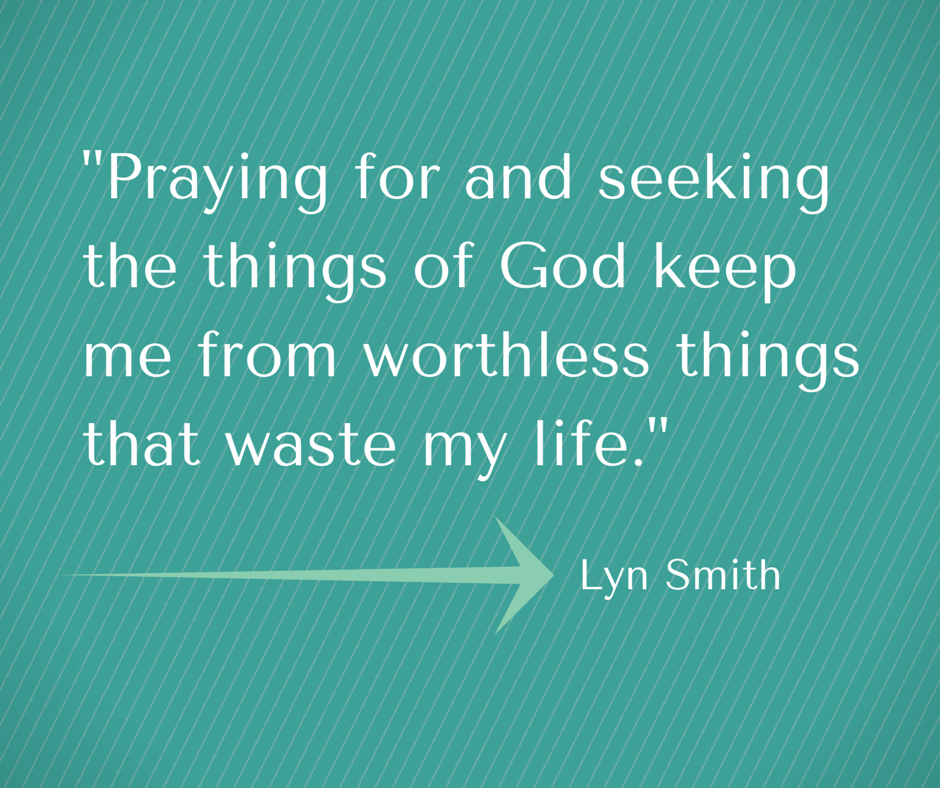 Lyn shares 1 Corinthians 3:11-15 to remind us that everything we do here on earth will be put to the test.
"For no one can lay any foundation other than the one we already have—Jesus Christ. Anyone who builds on that foundation may use a variety of materials—gold, silver, jewels, wood, hay, or straw. But on the judgment day, fire will reveal what kind of work each builder has done. The fire will show if a person's work has any value. If the work survives, that builder will receive a reward. But if the work is burned up, the builder will suffer great loss. The builder will be saved, but like someone barely escaping through a wall of flames."
So how do we guard ourselves from wasting our lives on worthless things?
We can pray the words of Psalm 119 inviting God to focus our energies on building His kingdom. Lyn highlights the following 6 prayers from Psalm 119 to help us start each new day.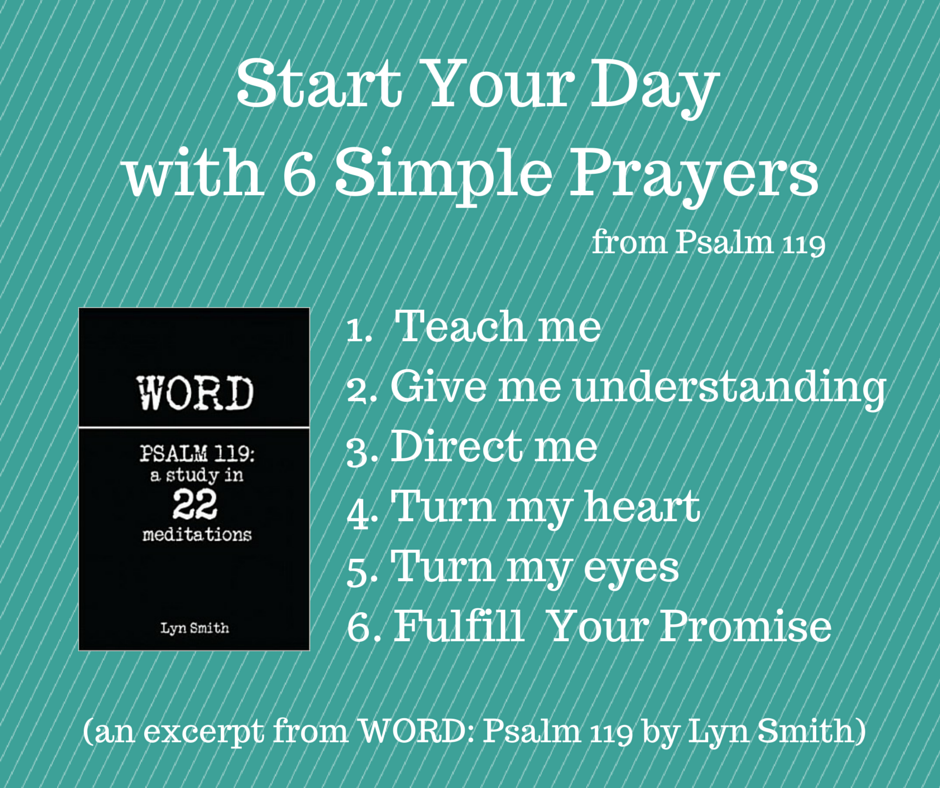 Here are the prayers along with the Scriptures and a few quotes from Lyn.
1. Teach me, Lord.
"Teach me, Lord, the way of your decrees, that I may follow it to the end." Ps. 119:33)
2. Give me understanding.
"Give me understanding, so that I may keep your law and obey it with all my heart." Ps. 119:34
Lyn says, "When our intent is obedience, God will give us understanding of His Word and will."
3. Direct me.
"Direct me in the path of your commands, for there I find delight." Ps. 119:35
4. Turn my heart.
"Turn my heart toward your statutes and not toward selfish gain." Ps. 119:36
According to Lyn, "We are to turn our hearts toward the truth of God, what brings honor and glory to Him, not toward things and activities that promote ourselves. Turning requires action, so as God works in your heart, expect change."
5. Turn my eyes away from worthless things.
"Turn my eyes away from worthless things; preserve my life according to your word." Ps. 119:37
As God leads us to fix our eyes on Him, Lyn says "We will begin exchanging the tinsel of this world for the gold of heaven."
6. Fulfill your promise.
"Fulfill your promise to your servant, so that you may be feared." Ps. 119:38
WORD: Psalm 119 is for every man or woman who wants to rely more fully on God and His Word. Lyn has created excellent teaching videos to go with each week of the study. You can do this study on your own or use it in a small group setting.  Check out this introduction to one of the teaching videos. (Email subscribers click here for the video.)
I hope you will consider diving into Psalm 119 with Lyn.You simply can't go wrong with this study!
Get to know Lyn and her heart for our Lord here on her blog.
About Jennifer O. White
I'm a simple wife who has discovered God's amazing gift of prayer. Here at Prayerfully Speaking I share my journey of unwrapping this gift. God invites us to ask Him, but His enemy works diligently to keep that from happening. I hope to offer you encouragement to believe God is ready to pour more into your life than you've ever imaged.