Prayers from the Pews: a Book Recommendation
I'm reading Prayers from the Pews: The Power of Praying for Your Church by Teri Lynne Underwood. Teri is a pastor's wife, mom, and a great writer. I love to read her blog! And this book is one I highly recommend for every praying person.
I've highlighted my way through half of the book so far. And I couldn't wait to tell you about it until after I finished it.
In the Necessity of Silence chapter, Underwood asks "What if we sat still before God waiting in anticipation before we ever uttered a word of prayer? What if our preparation for corporate worship was private silence before the Creator? How would our churches be changed, our prayer lives be changed, if our first inclination was stillness, silence, instead of speech?
Yeah. I'm not great at making silence before God a priority. Definitely want to try this more often. How about you? Do you get silent before God much?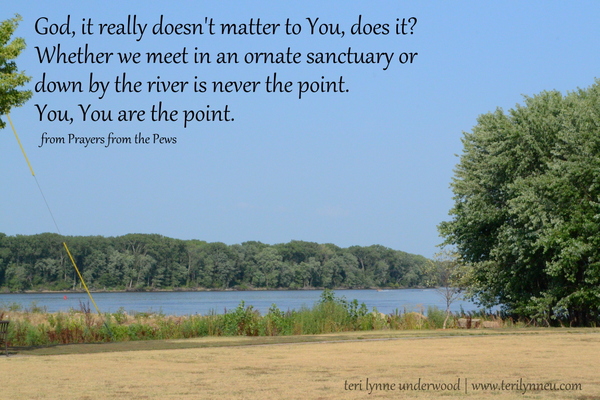 One thing about this book you need to know. Teri's approach is not "this is wrong about my church, people just don't get it, so I guess all I can do is pray about it". Instead, she reminds us that we are the Church and helps us to take personal responsibility for the attitudes and weaknesses we sometimes find ourselves grumbling about. She helps us to find the humility we need when praying for ourselves and our church.
Here is a prayer from the chapter, The Problem with the Church:
Jesus, You are the picture of humility. You gave up heaven and all its glory for this dusty, broken world. You left behind the honor and power that was rightfully Yours for a trip to the cross. Me? I don't even want to sing songs I don't like. And I sure don't want to choose to be less so others can be more. I miss the point most of the time, don't I? Will you teach me to grasp that when I make myself less it's not those around me who become more, it's You. All You.  Cause me to find contentment there in that place of smallness before Your greatness. In Jesus' name, Amen.
We purchased a copy of this book for each member of the prayer team at my church. I hope you will consider diving into the book yourself and recommending it to your church.
Question:
What's the cry of your heart for your local church today? Please share how you are praying for your church in the comment section below.
About Jennifer O. White
I'm a simple wife who has discovered God's amazing gift of prayer. Here at Prayerfully Speaking I share my journey of unwrapping this gift. God invites us to ask Him, but His enemy works diligently to keep that from happening. I hope to offer you encouragement to believe God is ready to pour more into your life than you've ever imaged.