Praying God's Name & Freedom Fridays
God is revealed to us by the names or titles He is given in the Bible. 
Jehovah Nissi (The Lord is My Banner) is found in Exodus 17:15:
"And Moses built an altar and called the name of it, The Lord Is My Banner."
I picture banners as signage at sporting events. And this amazing scene.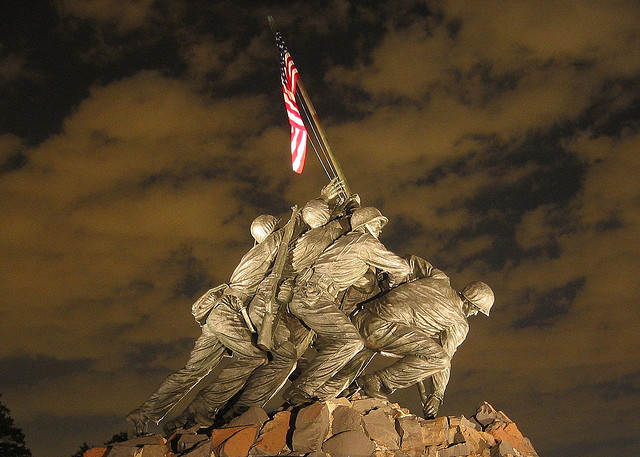 Image Credit: Beverly & Pack
So how is the Lord a banner? 
In battle, opponents once flew a flag on a pole at their own front line. The flag was a sign of hope to them. The warriors could focus on the flag, remember for whom they fought, and press on.
With an altar, Moses declared  that Joshua and his army had fought and won against the Amalekites because the Lord was Israel's banner. God directed them through Moses' leadership. Victory came as Moses stood on the mountain holding the staff of God in the air with Aaron and Hur helping Him. (Exodus 17:8-16)
God is our banner of encouragement to give us hope and a focal point. With eyes on the victorious God, we will not lose heart.
But you have raised a banner for those who fear you–a rallying point in the face of attack. Now rescue your beloved people. Answer and save us by your power. Psalm 60:4-5
The horse is made ready for the day of battle, but victory rests with the LORD. Proverbs 21:31
Despite all these things, overwhelming victory is ours through Christ, who loved us. Romans 8:37
Knowing God (Jehovah: the God who reveals Himself unceasingly) as our banner (Nissi) should give us great peace and bold courage. And that knowledge should affect how we communicate with Him.
Let's pray together to Jehovah Nissi: The Lord is My Banner.
I praise You, Lord: Jehovah Nissi. You are the Victorious God who fights and wins against the prince of this world. I am proud to fight under Your leadership.
You are the God who fights for me and leads me into victory against temptation and distraction. You have saved me. You are saving me today. I believe in Your power to save others.
I bless Your name, Jehovah Nissi. Use me to demonstrate bold courage and great peace in this very real spiritual battle.
Infuse my thoughts with the sure victory You desire to bring into every marriage and family.
I will raise my hands in faith that You are wining the fight in the spiritual realm. Let the people praise You because they see my faith in You.
Introducing Freedom Fridays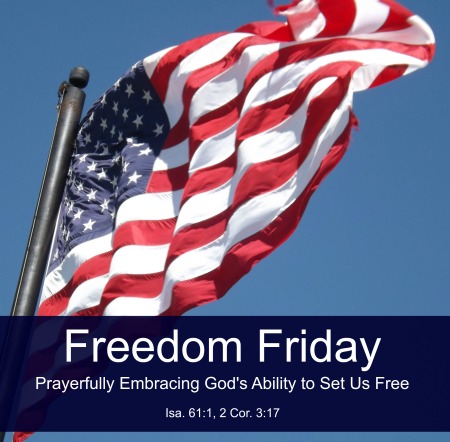 The enemy of our souls wants to discourage us. His battle plans include smoke screens of defeat. He hopes that you and I will forget that Jesus' purpose was and still is to set captives free. Jesus is fighting and winning all around us. Freedom Fridays will be a time to focus on the victories.
I will be sharing true accounts of victory in the spiritual battle. I would love to share your story too.
How  has Jesus has become your focus and encouragement in the battle against good and evil?
About Jennifer O. White
I'm a simple wife who has discovered God's amazing gift of prayer. Here at Prayerfully Speaking I share my journey of unwrapping this gift. God invites us to ask Him, but His enemy works diligently to keep that from happening. I hope to offer you encouragement to believe God is ready to pour more into your life than you've ever imaged.