Good Friday: a Reality Check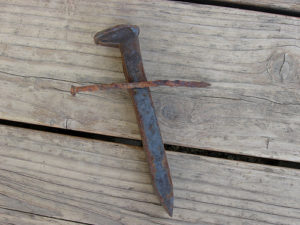 Jesus died for our sins.
Sin  – it is more than a word. It is a reality. But it is often a word we don't use about ourselves.
My comfort zone is peace and harmony. Confrontation has never been a natural thing for me. That  also applies to confronting my own sin.
Layers of self-protection sheltered me from thinking about my sin like an umbrella. Well, more like an umbrella, raincoat, and rubber boots.
My avoidance issues are beginning to dissolve. I've got a long way to go, but I'm moving in the right direction. Here's how I know. God has invited me to pray these two things:
Show me my sin
Slay my pride
This is not something I would have EVER asked Him before. I was too scared. Too scared to see the bad in me. Do you feel that way? Do you find yourself avoiding God because you are embarrassed of your sin, unsure of His reaction to your sin?
Facing Sin
John Piper is a sound preacher of the gospel. He is not afraid to talk about sin. In his sermon, Jesus Christ is an Advocate, Piper addresses sin head on. These quotes jumped off the page:
"nothing in all the world is more wicked or more terrifying than insubordination against our Creator."  John Piper
So, how often do you see yourself as insubordinate to God? That thought stings. It's a hard taste of reality.
Today is Good Friday. They day set aside to remember Christ's unspeakable suffering on the Cross. He had never sinned – not once. But he knew I would sin a lot. And He knew firsthand what God's wrath for me would look like. So he made sure I would never endure what one sin would cost me, never mind what a lifetime of sin would.
Piper says:
Sin says to Christ, "I do not regard your suffering as sufficient incentive to keep me back from this act. You may have died to prevent me from doing this, but I'm going to do it anyway." Thus sin insults the suffering of Christ. And that is very serious.
That is hard to read for me. "My sin insults the suffering of Christ." How could I? How could we?
Let's Pray
Father, we fall on our knees before You.  We are amazed that you could love us this much.
Help us to feel safe enough to explore our sins and admit them. Gentle Shepherd lead us to a place of humility and confession. Help us to identify any shame, guilt, and/or condemnation as tactics of the enemy.
Forgive us Lord for the pride that has guarded our sinfulness and justified it in any way. Grant us a clear understanding of our sin so that we can truly understand the work Jesus did for us on the cross.
Thank you for the sacrifice of Jesus that you put into place. We receive that act of Your incredible love this Good Friday. We invite you to tear down the walls that shield us from the reality of our own sin. Allow Your Holy Spirit to lead us to a new level of understanding of Jesus' death on the cross and the part we play in that event.
For Your glory, show us our sin. Slay our pride.
In Jesus Name – Amen!
About Jennifer O. White
I'm a simple wife who has discovered God's amazing gift of prayer. Here at Prayerfully Speaking I share my journey of unwrapping this gift. God invites us to ask Him, but His enemy works diligently to keep that from happening. I hope to offer you encouragement to believe God is ready to pour more into your life than you've ever imaged.