Recipe: Strawberry Goat Cheese Bruschetta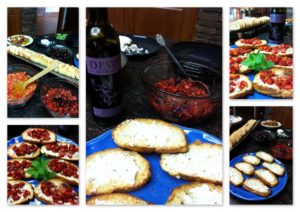 A recent gift of chocolate balsamic vinegar inspired me to try a new recipe. Thanks to the fabulous allrecipes.com, I found the perfect place to put this tasty tangy delight. I would not be a good friend to you if I didn't share the recipe. Here ya go!
Strawberry Goat Cheese Bruschetta
Ingredients
1/2 cup Devo Oil chocolate balsamic vinegar
12 slices French bread
1 tablespoon olive oil
1 pound strawberries, washed and diced
2 teaspoons thyme leaves
1 cup goat cheese, room temperature
salt and freshly ground pepper to taste
Heat vinegar in a small skillet over medium-low heat. Simmer until reduced by about half, 8 to 10 minutes. Remove from heat and allow to cool to room temperature.
Fire up the broiler. Place bread slices on a broiler pan and drizzle with olive oil.
Combine strawberries and thyme in a small bowl and set aside.
Broil bread on the browned, about 1.5 minutes per side.
Spread goat cheese on toasted bread. Add black pepper, salt, and reduced vinegar to the strawberry mixture. Spoon over the goat cheese topped bruschetta.
This takes only 25 minutes to prepare and is a wow to the taste buds. I served it to friends today for a book writing brainstorming session. I can't tell you about the book just yet. But I can tell you it's going to be great!
P.S. – it's not my book, but I am writing one.
About Jennifer O. White
I'm a simple wife who has discovered God's amazing gift of prayer. Here at Prayerfully Speaking I share my journey of unwrapping this gift. God invites us to ask Him, but His enemy works diligently to keep that from happening. I hope to offer you encouragement to believe God is ready to pour more into your life than you've ever imaged.