a Relationship with Jesus: Exploring the Concept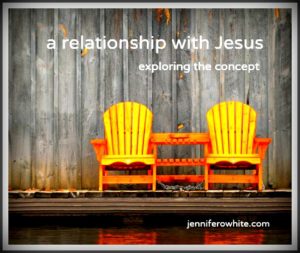 I grew up in church hearing a pastor talk about the need for a relationship with Jesus. I'm sure I heard it at church camp too. But I am not sure I understood the concept until my thirties.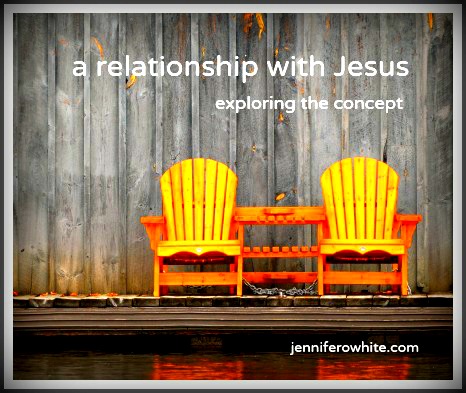 What about you? When did you grasp that you have or could have a "relationship" with Jesus? Does it feel like a relationship to you?
Maybe I was taking the subject too literal. Since Jesus is invisible to me, how can I be in a relationship with Him? When I became a Christian, I said "Yes, Jesus' blood covered my sinfulness. Now I belong to God." But how do I relate to Him the way I relate to someone I can see, hear, and touch?
I imagine I am not the only person who had some questions about this subject. So I'm starting a blog series to address the different facets of knowing God, hearing from God, being led by God, and more. I hope you will join me on this journey as we explore the concept. Pray with me that documenting this will be a help to many who search for answers.
My Relationship with Jesus Story
The following events were instrumental in my understanding that I was in a relationship with Jesus. Here are just a few:
1. Joyce Meyer's daily broadcast helped me to realize that God liked me. Seriously. I had no idea. Don't ask me how I got to be 30 something without knowing this. It just happened. Did you know God likes you too? Do you perceive Him this way? Do you think you are likable? This one verse helped me SEE God liking me:
The Lord your God is with you, the Mighty Warrior who saves.
He will take great delight in you; in His love He will no longer rebuke you, but will rejoice over you with singing." Zephaniah 3:17
2. Kari Jobe's song – I know that You are for Me. (Click here to listen to the song on YouTube.) I listened to this song over and over and over. I needed to hear it. I wanted to hear those words. The more I listened, the more I could believe that He is on my side. As she sang, Kari's voice reassured me that He knows me and is on my side.
3. Answered prayer during counseling sessions. The counselor I went to (currently seeing her again) led me in prayer during a session. We asked Jesus to show me the origin of my desperate emotions. And He did! Yes, right there in that room, I saw in my mind a scene from an event in my life related to what I was currently feeling. In that moment, I knew Jesus was actively involved in my life and wanted to help me.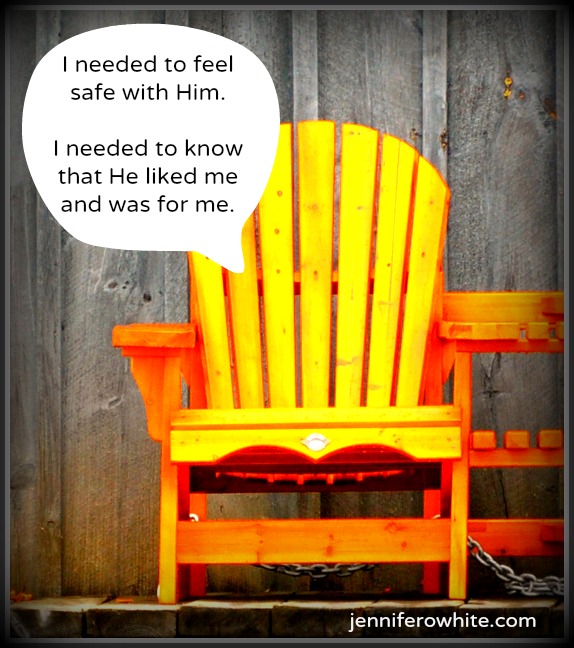 Can you see the common thread in my discovering and developing a relationship with God and His son Jesus? I needed to feel safe with Him. I needed to know that He liked me and was for me.
I would not have known this about Him if I had not needed Him and looked for His help – aka Joyce Meyer broadcasts, Christian music, Christian counseling, and daily Bible study.
Draw near to God and He will draw near to you. James 4:8
 Your Story
One of the most wonderful things about God is that He is creative. You were made to be completely unique. And He created you to relate to Him. He knows exactly what your common thread is. He knows what you need to hear, see, know, experience in order to take the next step with Him.
I would love to hear about your relationship with God and how it started. How does He express Himself to you? Please share in the comment section below. Your story will encourage all of us.
About Jennifer O. White
I'm a simple wife who has discovered God's amazing gift of prayer. Here at Prayerfully Speaking I share my journey of unwrapping this gift. God invites us to ask Him, but His enemy works diligently to keep that from happening. I hope to offer you encouragement to believe God is ready to pour more into your life than you've ever imaged.