Remaining Fearless in the Midst of Terrorism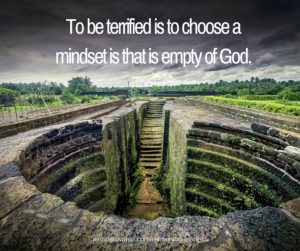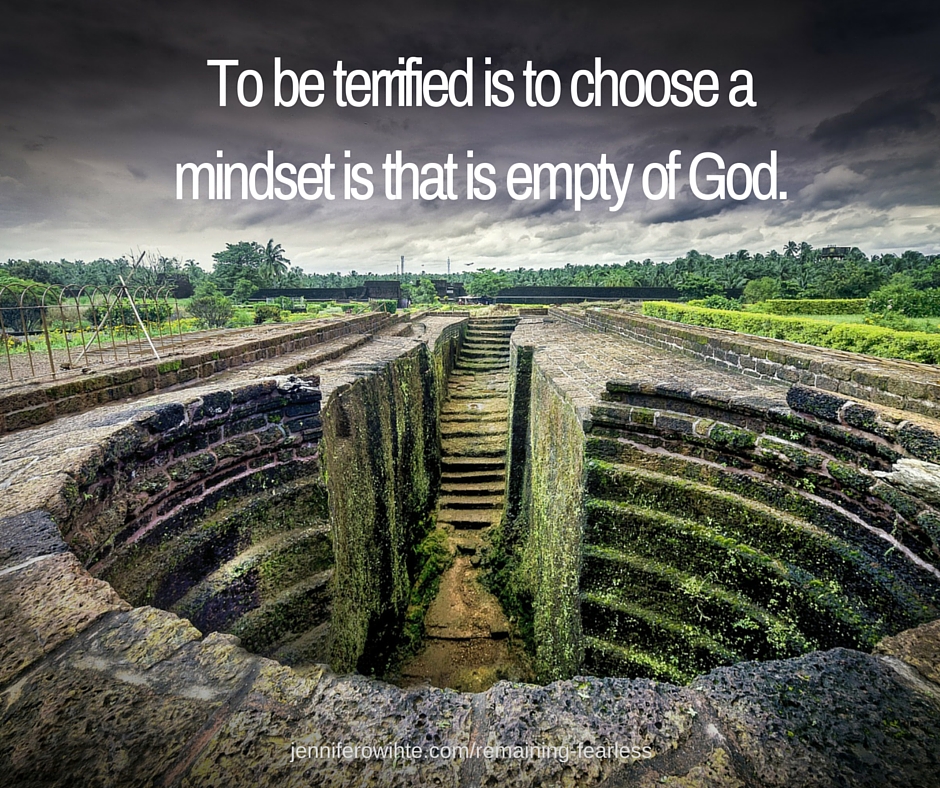 Our world seems so out of control right now. The news is full of evidence that too many people do not know the love of God that results in life and peace. How's your heart in all of this? Is fear creeping into the front of your mind too often?
Today, I am writing to encourage myself and you to resist the fear with a renewed passion to abide in Him. He is the Perfect Love that removes (casts out, drives out, expels) fear.
We know how much God loves us, and we have put our trust in his love. God is love, and all who live in love live in God, and God lives in them. Such love has no fear, because perfect love expels all fear. 1 John 4:16,18a
Our world events have been labeled "terrorism" but we are children of God and we are assured that because He is with us, we do not have to be afraid. To be terrified is to choose a mindset is that is empty of God.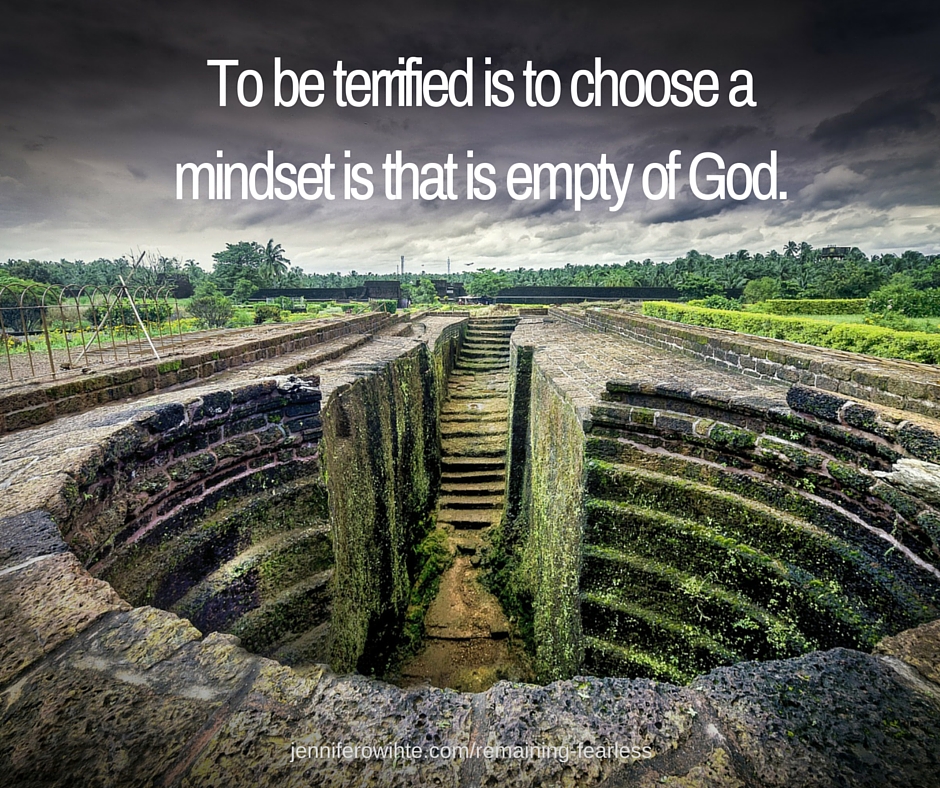 Don't be afraid, for I am with you. Don't be discouraged, for I am your God. I will strengthen you and help you. I will hold you up with my victorious right hand. Isaiah 41:10
How do we take these fearful thoughts captive? How do we choose to live unafraid? We make the choice to divert our thoughts to who God is, what He can do, and who we are to Him.
For to set the mind on the flesh is death, but to set the mind on the Spirit is life and peace. Romans 8:6
In all circumstances take up the shield of faith, with which you can extinguish all the flaming darts of the evil one; Ephesians 6:16
Remain in me, and I will remain in you. For a branch cannot produce fruit if it is severed from the vine, and you cannot be fruitful unless you remain in me. "Yes, I am the vine; you are the branches. Those who remain in me, and I in them, will produce much fruit. For apart from me you can do nothing. John 15:4-5
When we choose to soak our lives in the One who is the Way, the Truth, and the LIFE, we will reveal who He is to the world around us. His strength and stability will become ours and it will spread like a wonderful and wild vine nourishing those who are desperate for peace and confidence.
But the Holy Spirit produces this kind of fruit in our lives: love, joy, peace, patience, kindness, goodness, faithfulness, gentleness, and self-control. There is no law against these things! Galatians 5:22-23
The fruit of that righteousness will be peace; its effect will be quietness and confidence forever. Isaiah 32:17
The world seems to want a war. We are wise to remember that we do not wrestle against flesh and blood.
For we are not fighting against flesh-and-blood enemies, but against evil rulers and authorities of the unseen world, against mighty powers in this dark world, and against evil spirits in the heavenly places. Ephesians 6:12
We worship the God who is sovereign over all. He is our Victorious Warrior who fights for those who trust in Him and accept His son Jesus. He is our protector, our refuge, our shield and defender!
It is useless for you to fight against my will. Acts 26:14b
But the LORD stands beside me like a great warrior. Before him my persecutors will stumble. They cannot defeat me. They will fail and be thoroughly humiliated. Their dishonor will never be forgotten. Jeremiah 20:11
The LORD says, "I will rescue those who love me. I will protect those who trust in my name. Ps 91:14
Make thankfulness your sacrifice to God, and keep the vows you made to the Most High. Then call on me when you are in trouble, and I will rescue you, and you will give me glory." Psalm 50:14
People are dying. Will God spare your life and mine? He certainly is able to and we should pray that He does. Why would He choose to leave us here in the midst of great danger? Why not bring us to heaven where we are completely immune to the pain and sorrow happening all around us?
So we are Christ's ambassadors; God is making his appeal through us. We speak for Christ when we plead, "Come back to God!" 2 Corinthians 5:20
God allowed Daniel to be thrown into a lions den. He was protected and the wonder of God's power was made known to many!
Our God is so full of love. With extravagant mercy, He moved heaven and earth to make sure we would live a rich and satisfying life with Him. Our satisfaction has been guaranteed by Jesus. Jesus left the perfect and protected life of heaven for thirty-three years to ensure we could share it with Him. We are to be so filled with His perfect love for us that we supernaturally choose to make the same sacrifice for others.
Rescue the poor and helpless; deliver them from the grasp of evil people. Psalm 82:4
As we cling to the One who loves us perfectly, His love will fill us up and overflow into the lives of other people. When we recognize how poor and needy we are for the love of Jesus and the unlimited resources of heaven, we become cheerful givers. God will show us how to use what He has given us to help someone else. Our acts of kindness will not be random, but very purposeful to bring other poor and needy people to feast at the table of the Lord with us.
We are here for a purpose that is so much bigger than we can comprehend. There are giants in our land and we look like grasshoppers, but God!! He is able to accomplish infinitely more than we can ask or imagine. He chooses to fill us with His power, love and sound mind so that we can fearlessly lead others into the promised land. (See Numbers 13)
Prayer unites our weaknesses to the One who is Almighty. Let's pray.
Abba, Father! Help us to be honest with You about our fears. Satan wants to terrorize us with fear, but we draw near to You with our anxious thoughts knowing that You respond with wisdom and revelation that stabilizes our inner man. Help us to hear Your response.
Strengthen our minds to remain focused on You regardless of the "bad news" that we hear. You have filled our todays and tomorrows with Your Good News. Immanuel, the with us God, leads us to streams in the desert and speaks peace to the storms raging around us. Help us to expect Your resurrection power to flow to us and through us. Sharpen our minds to think Your thoughts. Quicken our ears to hear Your voice speaking peace and life to us. Purify our hearts so that we no longer tolerate a fear of men. Open our mouths to speak what is true with love, joy, peace, patience, kindness, gentleness, goodness, faithfulness and self-control. We rejoice that You are our strong tower. We run to You for protection and we lay aside all of our habits of self-protection. You are faithful and by Your power at work within us, we will be faithful to You. In Jesus, we pray. Amen
About Jennifer O. White
I'm a simple wife who has discovered God's amazing gift of prayer. Here at Prayerfully Speaking I share my journey of unwrapping this gift. God invites us to ask Him, but His enemy works diligently to keep that from happening. I hope to offer you encouragement to believe God is ready to pour more into your life than you've ever imaged.