Rest in God's Capable Hands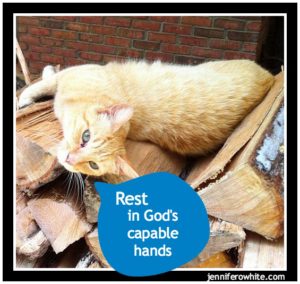 Remember my recent post on the Freedom of Self-Forgetfulness? Meredith Lewis, The Marine's Wife, is guest posting on how it relates to Worry today. Her honesty helped me (and I hope it will you) relax and rest in God's capable hands.
Let me get straight to the point.
I am selfish.
But, if you asked a lot of people who knew me, they'd probably tell you different. They'd probably tell you I'd do anything to help. That I'm someone you can count on.
And while that may be an accurate account of my desire to serve (i.e. be liked and accepted and seen as needed and important), my acts of service and good deeds are often a cover-up. A masterful façade for one purpose: to make you think I'm more faith-filled and steady than I really am.
Do you know how I know this?
Because I am a jedi-worrier. A kung-fu, black belt in the art of fear, trepidation, and doubt. I battle anxiety nearly everyday. Some days it's a fleeting moment of "Uh-oh." Other days, it is paralyzing "what-if" storyline of mammoth proportions.
But most of all, worry is a selfish and faithless hobby.
Why?
To worry is to take an omnipotent, omniscient, omni-benevolent, and sovereign God completely out of the equation that is your day-to-day life. To force the abdication of His own throne. (Which, by the way, you cannot do. But best of luck trying.) To absolve Him of His nature of faithfulness and provision entirely and to usurp His wisdom with your own pathetic attempt at planning.
Worry demands answers.
Worry desperately needs control.
Most importantly, worry is a stealer of right remembrance.
Worry says, "How did you handle this last time?" "What did you do?" "How did you fix it?"
The emphasis is tragically misplaced. We only remember that we have been in difficult circumstances before, but we forget that we were not the ones that saved ourselves.
Matt Chandler says it this way: Remembering rightly redeems our rejoicing.
Remember what, though? My shortcomings? My failures?
No. Remove yourself from the solution altogether.
Remember God. Remember His provision. His timing. His grace. His salvation.
Regardless our circumstances we can live in peace. We can choose to focus on God instead of ourselves.
Jesus, forgive us for our worry.
Lord, forgive us for the doubt that clouds our remembrance of Your goodness and grace throughout our lives.
Grant us a clear recollection of Who You are, what You have done.
Help us to walk in faith, with hope, in the security of Your promises to us.
Help us to trust You, to believe whole-heartedly that You are who You say You are and that You can do what You say You will do.
We want to rest in Your capable hands.
Amen.
How have you overcome worry? What truths have helped you learn to rest in God's capable hands? Please share with us as we learn to let go and just "let God!"
About Jennifer O. White
I'm a simple wife who has discovered God's amazing gift of prayer. Here at Prayerfully Speaking I share my journey of unwrapping this gift. God invites us to ask Him, but His enemy works diligently to keep that from happening. I hope to offer you encouragement to believe God is ready to pour more into your life than you've ever imaged.