How One Man Revived His Prayer Life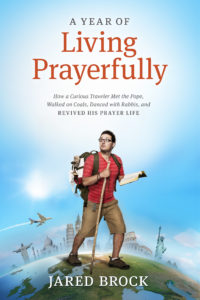 Jared Brock, the author of A Year of Living Prayerfully, is our guest on the blog today. He courageously admits that he grew up and forgot about prayer. But he later went to great lengths to revive his prayer life. His effort, experiences, and sense of humor have inspired me.
—
I hadn't always had a crappy prayer life.
When I was in high school, I experienced all sorts of crazy things because of prayer. It all started when our Christian lunch group was kicked out of the school. We went down to the office to see why, and they told us that religious groups could no longer meet inside.
Except the Muslims, Jews, and Buddhists. So basically, no more Christians inside.
Long story short, some of the parents took the school board to court, and won. We got a free pizza party as an apology, but not before we endured a long winter of meeting outside in the snow. The Salvation Army supplied us with blankets and hot chocolate, and we were on TV and in the local newspaper.
And a crazy thing happened. Teenagers started to see us shivering in the cold – praying for revival – and decided to stop in. Soon, dozens of students were coming to Jesus. There were a few months where someone was getting saved every single week. And some of them are church planters and pastors today.
But then I grew up, got married, got a job. Life happened, and I forgot about prayer.
Pilgrimage was a common practice in the Middle Ages. It allowed Christians to refocus their entire lives on things above, taking a physical journey toward a spiritual goal. Some visited the birthplace of Christ or the areas where the apostles ministered. Others traveled to the hometowns of saints or to far-off places in hopes of miraculous healing.
Yet Christians have lost this practice somewhere along the way.
For a long time I'd wanted to resurrect the prayer pilgrimage and follow in the old pilgrims' footsteps. But more than that, I longed to be a deeply spiritual being, highly in tune with my Creator and His world.
Then my wife and I visited the red light districts of Amsterdam.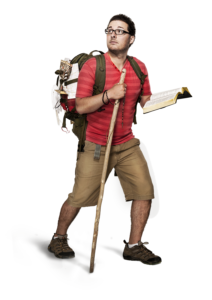 We run a charity to fight human trafficking, and we were filming a documentary undercover.  As we walked toward De Wallen, the most famous of the city's three red-light districts, we could hear chanting from over a mile away. By the time we arrived, the scene was overwhelming.
About three hundred men had congregated outside a bar. They were watching a soccer game, and most of them were drunk. The smell of vomit and urine hung in the air and clogged the canal. Police officers on horseback tried to steady their mounts. The women in the windows beckoned, tapping on the glass with their nails.
Michelle had a chance to visit some of the women with a friend who worked for an abolitionist group in the city. As soon as Michelle's friend approached, the prostituted women dropped their seductive act. They were tired, sick, and scared. One woman stared out the window at the mob. She whispered one word: "Dangerous." If the men's team won, they would come in and celebrate with the girls. If their team lost, they would take out their drunken aggression on the girls. Either way, the girls would lose.
In the middle of the red-light district stands the oldest building in Amsterdam—an eight-hundred-year-old church. In the shadow of the belfry, men rent bodies. Every hour on the hour, men abuse women to the soundtrack of church bells.
As I stood in the middle of this scene, I was completely overwhelmed. "God," I cried out, "You need to end this! We need to end this. I need power in prayer."
So, I set out on a 37,000 mile pilgrimage around the globe, to explore a world of prayer traditions across the Judeo-Christian faith family – including some of the "weird uncles" and "crazy cousins."  I danced with rabbis, visited monks, walked on coals, and even gained an audience with Pope Francis and had lunch at the Vatican.
I had some incredible experiences – like visiting Jerusalem, Bethlehem, Assisi, Avila, and the Camino de Santiago. And I had some significant moments that impacted my prayer life, too.
At Taize, 3 hours from Paris, I discovered the beauty of silence. Christians don't practice silence in the Buddhist sense- we're not trying to achieve emptiness or nothingness.  We're trying to create stillness and silence so we can hear the still, small voice of God.
If you talk the whole time in prayer, that's a speech or a monologue. But prayer is a dialogue, a two-way conversation that requires times of listening. It's relational. It's funny – I pray more now, but my prayer life is far more quiet.
At Monte Cassino, in Italy, I discovered Benedict's wise words: Ora et labora. Pray and work. I had always tried to separate the two, but now I'm realizing that my best prayers happen when I invite God into my work. My work becomes an offering.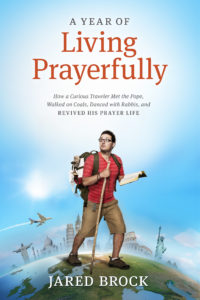 And at the oldest church in North America – a Quaker meetinghouse in Maryland – I learned a cool tradition called "holding in the light."  If you've been praying for someone a long time, and you've simply run out of things to say, Quakers picture themselves holding that person in the light of God's grace. They say, "God, I'm out of words. Please do the work that only you can do."
When I set out on my round-the-world adventure, I didn't know what to expect. I didn't have an agenda. I was open to anything, ready for new experiences. And there wasn't a single place I didn't learn something.
You can do the same thing in your everyday life – as you meet new people, visit different churches, encounter other believers. We can learn something from anyone, so attune your ear to what God might want to say through them.
Your journey could teach you how to pray.
Jared is the author of A Year of Living Prayerfully, a humorous travel memoir about prayer. He is the cofounder of Hope for the Sold, an abolitionist charity that fights human trafficking one word at a time. He has written for Huffington Post, Esquire, Converge, and Relevant. Jared is happily married to his best friend, Michelle, whom he first kissed in the seventh grade.
(Disclaimer: I have not read Jared's book yet.)
How have you revived your prayer life?
About Jennifer O. White
I'm a simple wife who has discovered God's amazing gift of prayer. Here at Prayerfully Speaking I share my journey of unwrapping this gift. God invites us to ask Him, but His enemy works diligently to keep that from happening. I hope to offer you encouragement to believe God is ready to pour more into your life than you've ever imaged.