Your Satisfaction Guaranteed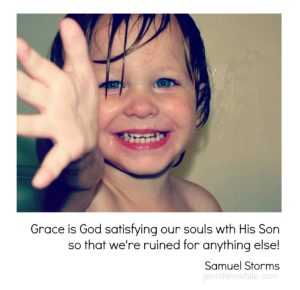 Our media soaked world wants to make sure you and I have everything we need to be satisfied. The number of new things we could add to our collection never ends. Just today, I felt myself dreaming of how to make the entrance to my porch just a little more appealing. It wasn't a bad wish. It just wasn't a need. I can be satisfied with it just as it is.
We can do the same thing with each other. I can spend my mental and emotional energy enjoying the innumerable blessings David brings to our marriage. I enjoy his gentleness, laughter, steadfastness, patience with me, excellent work ethic, kindness to my family and and and and… And then I can easily fall into a "if he were more ________ or less _______."
If I entertain that thought very long my marriage satisfaction meter takes a hit.
Where did that note of dissatisfaction come from? Was it said it in hopes that my heart and mind would repeat it?  The king of counterfeits who also masquerades as a marriage destroyer said it. He offers dissatisfaction because he knows that God is the Satisfier.
The psalmist prayed,
"Satisfy us each morning with your unfailing love, so we
may sing for joy to the end of our lives."
Psalm 90:14
Samuel Storms reminds us that, "Grace is …. God satisfying our souls with His Son so that we are ruined for anything else!" There is nothing on this earth that will satisfy you or me unless the very real, but invisible Spirit of God provided it for that purpose.
This is our Hope for satisfying love:
He fills my life with good things.
Psalm 103:5
He satisfies the thirsty and fills the hungry with good things.
Psalm 107:9
Our hope and our joy is found in Him. The love we crave, the acceptance we need, is from Him. The one we are married will triumph in areas and wane in others. We can celebrate both, recognizing the gift of their humanness next to our own. And recognizing the gift of Jesus, our satisfaction.
a Prayer for You and Me
Mighty God, thank You for offering us unending satisfaction. Your gift of Jesus is the ultimate satisfaction.
Blanket our souls with this truth.
Help us to enjoy the gift of marriage as you intended it. Use us as vessels of joy and love and satisfaction. Teach us to receive from You, the gifts you deliver through our "til death do us part" partners. Train us to rely on You for what seems lacking.
Let the signature sound of our voices be, "I am satisfied with Jesus. He fills my heart and my marriage with good things!" tweet that
With Jesus' name on our lips, we pray. Amen
In the war upon the powers of darkness, prayer is the … mightiest weapon." ~ Jessie Penn-Lewis
I would love for you to join this prayer in the comments below.
About Jennifer O. White
I'm a simple wife who has discovered God's amazing gift of prayer. Here at Prayerfully Speaking I share my journey of unwrapping this gift. God invites us to ask Him, but His enemy works diligently to keep that from happening. I hope to offer you encouragement to believe God is ready to pour more into your life than you've ever imaged.