Praise Him: When Life Demands that You Simplify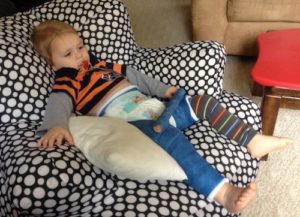 Praising God is our best response in every situation. This guest post from Esther Hawkins is great reminder that God brings blessings from great difficulties.
I've lost count of the times that I have tried to simplify my life; reassessing priorities, clearing out closets, reorganizing schedules and yet it always seems that the space that I create gets quickly filled up with something else.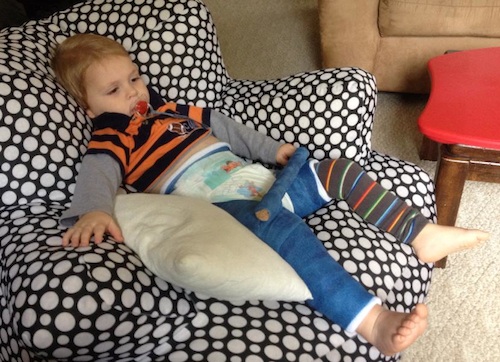 "God, I love living with you; your house glows with your glory." Psalm 26: 8 (The Message)
Six weeks ago, my two-year-old was injured playing with his brother. We went into the hospital not even considering a break, and came home 24 hours later after x-rays, an overnight stay and a trip to the operating room to set a spiral fracture.
My energetic and fun loving third child groaned in my arms, exhausted and in pain; completely immobilized with both legs cast and held apart by a wooden rod, the cast wrapped around his belly all the way to his ribs.
The first week was a whirlwind of adjustments and trying to keep him as free from pain as possible. Our friends and family rallied around to help us with meals, errands and taking care of our other two children. One by one I cancelled commitments, made phone calls and reduced life to baby and me cuddling on the couch.
Now we are at the end of this short season. The cast was removed this week. We are more than ready and yet as I look back at this experience, which has certainly had its challenging moments, I can't help but bask in the glory of God that has invaded my heart and home. Something that should have been so complicated has given me the opportunity to simplify. I know that life will get busy again as we resume activities, prepare for Christmas and I take back the responsibilities that my friends have so generously covered for me. The simplification has been in the realization of what is available to me in His presence when I give that space over to Him and simply sit still and listen to His voice.
As I re-launch into normality, the joy in my heart exclaims, "God, I love living with you!" May this lesson that has gone a little deeper go deeper still as I hunger for more of His presence.
May we all experience the incomparable knowledge and love of God through the most painful and complicated of circumstances for He has purchased abundant life for us though His Son.
Esther Hawkins is a stay-at-home-Mom to three young children and lives in Missouri. She is originally from England but moved to the States 14 years ago. Esther has just finished her first novel, Bedstemor, which is available on Amazon, and is working on completing her second novel in the Spring. She blogs, so click on over and have a read.
About Jennifer O. White
I'm a simple wife who has discovered God's amazing gift of prayer. Here at Prayerfully Speaking I share my journey of unwrapping this gift. God invites us to ask Him, but His enemy works diligently to keep that from happening. I hope to offer you encouragement to believe God is ready to pour more into your life than you've ever imaged.