Singing Your Prayers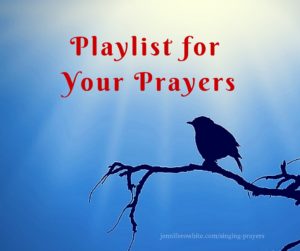 I was up at 4am after a strange dream. The early morning quiet hours have become some of my best prayer times.
Practicing Stillness
I used to seize those up-too-early hours to accomplish an unfinished writing project. But I'm learning to stay there and talk to God. I'm learning to listen.
What I love about this time with the Lord is that I can just process the things I have on my mind with Him. I believe He brings topics to my mind so that He can share something with me about them. Even though my thoughts are random and oh so out of order, He has no problem inserting Himself into them.
I'm learning that I'm more open to hearing Him and quicker to respond to Him in those quiet moments. During the day, I risk brushing off an idea as something that is distracting me when it could be God's prompting.
Do you struggle with hearing Him when you are busier and more focused on tasks too?
The Link between Forgiveness and Intercession
Yesterday was emotional. I literally cried in the hair salon. I hope the girl that washed my hair just thought she was getting my face wet. By the end of the night, I calmed down enough to realize I had some forgiveness work to do and I did it.
Everyone of my counseling sessions includes at least one prayer that begins with "Lord, I choose for myself the healing that forgiveness brings." I am so thankful!
This morning I woke up with a heart that was ready to intercede instead of stewing on the heartache I was wrestling with yesterday. I'm so amazed at how much this principle of forgiveness has impacted my life. It's especially helpful as I pursue my phrase for 2015 which is Pure Love. I seriously don't want to waste my life brewing bitterness when I could be choosing joy, guarding my heart and acting as an instrument of life-changing victory for others as I pray for them.
I'm not trying to pat myself on the back here. I'm just sharing a biblical principle that is working for me. Over the last ten years, I've spent a LOT of emotional energy working on being obedient in this area and it has produced much peace for me. See Isaiah 32:17.
How is forgiving people impacting your heart and your prayer life? Are you able to pray for those who hurt you or those who hurt someone you love?
Praying the Lyrics
So back to my 4am conversations with God. This morning as I presented the name of someone I know who is hurting to the Lord, I heard these lyrics in my spirit:
So breathe, oh breath of God
Now breathe, breath of God
Breathe oh breath of God
Now breathe
So, I sang the words in my heart and saw the face of the person I was singing them over. God.Is.Amazing! He gave me the words He wanted me to pray over my friend. He wants to breathe life into this hurting heart. He wants to breathe His life where death has been spoken and experienced.
He breathed LIFE into Adam. In Job 33:4, the Holy Spirit is referred to as the breath of the Almighty. He can breathe His faith, His hope, His love into anyone for His own purposes. He can jumpstart the dead places in our hearts. Today, He allowed me to partner with Him to do exactly that.
Within moments, I began to see the faces of others who have expressed a need to me. So in the quiet of my little bedroom, while David and Skeeter slept peacefully, I sang a prayer in my spirit.
Then there was a new song to sing and more faces to sing them over.
Awake, awake, awake my soul,
God resurrect these bones
From death to life, for You alone
Awake my soul
And one more:
Freedom reigns in this place
Showers of mercy and grace
Falling on every face
There is freedom
This to me is amazing grace. I didn't have to strive to think of how to pray for these who are called His beloved. I didn't have to jump out of bed and search the concordance for a Scripture to pray over them. I just laid there quietly and He brought the Words to pray and the people to sing them over. He wants to move in the life of someone He loves so dearly and He allows me (you) to assist Him in the smallest way to do what we could never do for them on our own.
I can not breathe life into them. I can not resurrect anyone. I can not cause someone to walk in freedom. Only God can. And He is generous to invite me into His plan to do it.
Today He built my confidence in His tender, merciful heart that wants to heal us in our broken places. I experienced a bit of His glory today and I am filled with JOY over it.
I'm passing the baton to You. Who can you sing these prayers over today? Who will you declare life and freedom over today in Jesus' name? Take sometime to sit still before the Lord and listen to the songs. See if the Lord brings someone to mind. When He does, consider that your invitation to pray over them.
Below are the full versions of the songs along with links to the lyrics and a few easy to use playlists.
Come Alive (Dry Bones) and the lyrics
Awake My Soul and the lyrics
Freedom Reigns and the lyrics
YouTube Playlist: Praying the Lyrics
Spotify Playlist: Praying the Lyrics
Think About It
How has God used music to lead you in a time of intercession?
What does your quiet time before the Lord look like? Is it always active? Are you taking time to just be still and wait to hear from Him?
What obstacles to being still do you need to bring before the Lord asking Him for His solution?
About Jennifer O. White
I'm a simple wife who has discovered God's amazing gift of prayer. Here at Prayerfully Speaking I share my journey of unwrapping this gift. God invites us to ask Him, but His enemy works diligently to keep that from happening. I hope to offer you encouragement to believe God is ready to pour more into your life than you've ever imaged.