Spicy Cranberry Pear Balsamic Chicken
It's time for a little recipe sharing.
Shopping at Devo Olive Oil gives me every excuse to be a creative cook. When I tasted the Cranberry Pear White Balsamic Vinegar, I immediately thought of a salad dressing for a chicken salad. I found a great sale on chicken thighs and voila — we've got supper!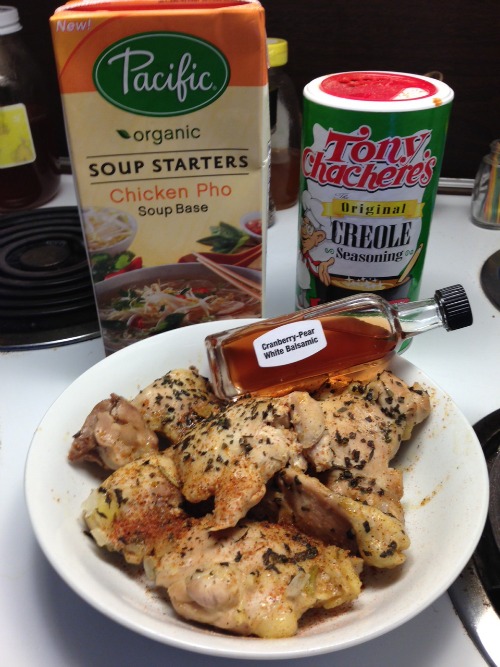 Spicy Cranberry Pear Balsamic Chicken
Ingredients 
6 pieces          Chicken Thighs
2 Tbsp            Cranberry Pear White Balsamic Vinegar from Devo Olive Oil
1 Cup              Chicken Pho Soup Starter (Chicken Broth will also work)
½ tsp              Dried Basil
½ tsp              Black Pepper
½ tsp              Cajun Seasoning
Directions
In a large skillet, add chicken to the pho soup starter. Drizzle the cranberry pear white balsamic vinegar over the chicken. Sprinkle the chicken with remaining spices. The Cajun seasoning really brings out the fruity flavors of balsamic vinegar.
Cover the skillet and cook on medium high heat for 30 minutes.
I served the chicken with roasted vegetables and wild rice.
With the leftover chicken, I made a salad and used the Cranberry Pear White Balsamic Vinegar in a salad dressing. Here is my "semi-homemade" recipe for the dressing: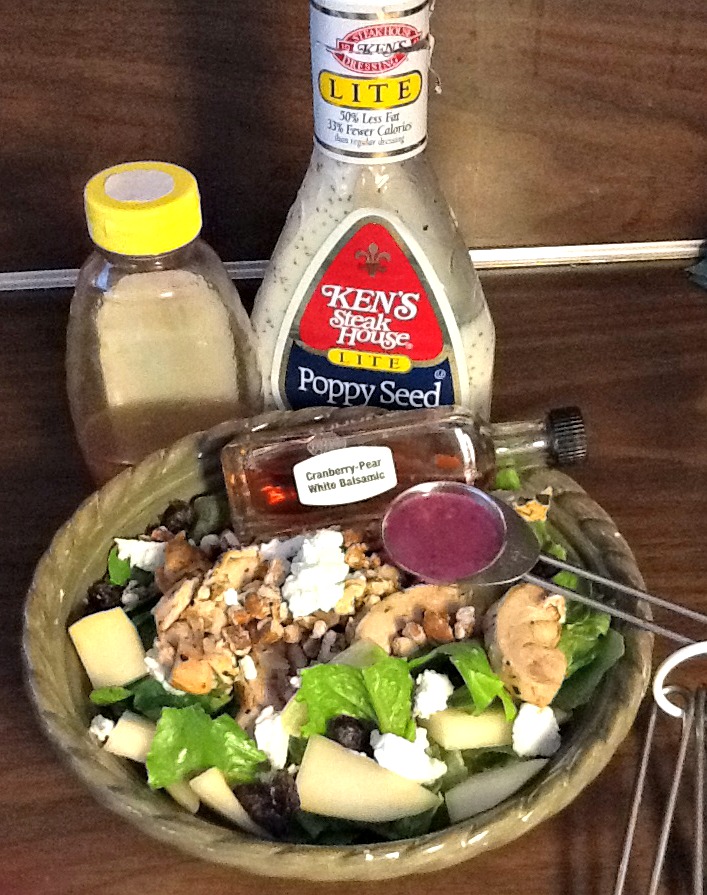 ½ Cup Frozen cranberries cooked in boiling water for 5 minutes. Crush the cooked cranberries in the water and drain the juice into a mixing bowl. Add to this fresh, warm juice:
3 Tbsp Honey
1/2 Cup Poppyseed Dressing
1 1/2 Tbsp Cranberry Pear White Balsamic Vinegar
2 Tbsp Orange Juice
Create your salad with Romaine lettuce, cranberries, sugar coated pecan pieces, goat cheese, thinly sliced pear pieces and the chicken.  Top with your new dressing and WOW!
Enjoy!
About Jennifer O. White
I'm a simple wife who has discovered God's amazing gift of prayer. Here at Prayerfully Speaking I share my journey of unwrapping this gift. God invites us to ask Him, but His enemy works diligently to keep that from happening. I hope to offer you encouragement to believe God is ready to pour more into your life than you've ever imaged.