Calling on the Name of the Lord: Danny's Testimony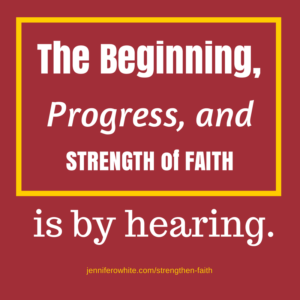 Where does our confidence in God come from? It comes from hearing God's Word.
 "So faith comes from hearing, and hearing through the word of Christ." Romans 10:17
That simple truth is further explained this way: "The beginning, progress, and strength of faith is by hearing. But it is only hearing the word, as the word of God that will strengthen faith." 
Prepare to have your faith strengthened. In this testimony you will hear how God reached Danny in his darkest days. please don't skip this video
Who could have imagined how radically God would transform Danny's desperate life? He was a 108 pound man with three types of Hepatitis determined to die alone without an identity. But Wanda and her church prayed for him. They dared to believe God would save him. Their confidence in God was stronger than their doubts.
We can not imagine what God's mighty power could do in the one we pray for. Who is praying with you? Who is agreeing with you in prayer that will be strong in their faith when yours is losing steam?
Danny became a trophy of God's extravagant grace. God's blessing came to him when he heard the word of the Lord and acted on it (Luke 11:28).
"everyone who calls on the name of the LORD
shall be saved." Joel 2:32
God, our Father, we thank you for strengthening our confidence in You and your willingness to answer our prayers. We invite you to multiply our faith and let it lead us to live a praying life. Inspire us to share Your Word so that others will call on Your name and be set free. In Jesus we pray. Amen
What inspired you about Danny's testimony?
What's your next step in praying for someone in need?
About Jennifer O. White
I'm a simple wife who has discovered God's amazing gift of prayer. Here at Prayerfully Speaking I share my journey of unwrapping this gift. God invites us to ask Him, but His enemy works diligently to keep that from happening. I hope to offer you encouragement to believe God is ready to pour more into your life than you've ever imaged.