Subscribers Library
Thank you for following along with me at Prayerfully Speaking and/or Marriage Armor for the #PrayingBride. Writing for God with you in mind is an honor.
All of the ebooks listed below are free to you as a subscriber. Click the titles to download your copies. Each file is a PDF. The link will take you to a dropbox folder for easy downloading.
Seeing Your Spouse through God's Eyes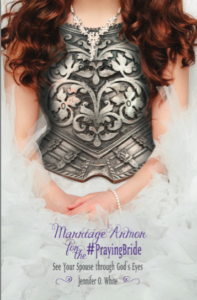 This married life will afford you many opportunities to value your husband based on someone's perspective. Someone may exalt him as the picture of perfection. Others may feel obligated to highlight his weaknesses to you.
The hope of adoring your husband all the days of your life depends on seeing the Creator delight in him.
We need God's perspective.
I pray that this free chapter assists you in swinging the door of your heart open wide to a life of extraordinary love.
Prayers Spoken, Lives Changed: God's Extraordinary Love for 18 Ordinary People is a short ebook is filled with real life problems that were given to God in prayer. Each problem was met with the incredible power of God. Each victory reminds us that God is alive. God hears. God moves on behalf of His people when they call out to Him for help.