The 7 Letter Word that Demolishes Everything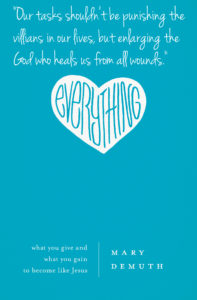 There is one 7 letter word that will complete the following sentences. Can you fill in the blanks?
____________ is the inner disease of those who need stability and order to function. It's the shiny little idol we worship without noticing.
____________ is the untamed beast, particularly when we leverage it to manage our own public relations firm.
It is impossible to ____________ how other people view us.
____________ keeps us distant from our hearts, our pet sins, and those things we hide.
Our need for ___________ shoves away God's ownership in our lives and it keeps us at the helm.
In relinquishing ___________ growth flourishes.
Have you guessed the word yet? The word that we easily see in the behavior of those around us but rarely see in ourselves. The word that we don't want to hear others use to describe us.
Read those sentences again using the word "control".
In her brand new book, Everything: What You Give and What You Gain to Become Like Jesus
, Mary DeMuth addresses what we think, who we are, and how we live. Every chapter is packed, and my copy is filled with highlights, circles, and underlines. It's a book I never want to lose, but will certainly be giving and recommending it for years to come.
In Chapter 8, Mary invites you and me to forsake the seven letter word that demolishes everything. Control!
She continues:
"According to Hosea, the remedy for a controlled life is repentance. Turning away from our ways to God's ways. It's giving the throttle to Jesus, letting Him propel us forward instead of our navigating the Jet Ski. As we learn the art of letting go of control, we'll begin to understand the abundance Jesus promised His followers.  To abandon all is to take our hearts, place them before the One who created them, and dare to believe He can live life powerfully through our surrendered lives."
I admit that more than once it has been proven that I am a poor captain of my own ship. But I hire myself for that role far too often. I desire to surrender control. I read His Word and I believe that nothing is impossible with Him. I believe that He is for me. I believe that I can trust Him. But I need help recognizing those places that are waiting to be released into His control.
That's why I need people like Mary and books like Everything to remind me. I can't recommend this book enough. Mary is the real deal. She writes in a way that causes me to want to be her friend, her neighbor. Her words help me embrace the reality of the love of Jesus. I believe they will do the same for you.
Don't take my word for it, read the other reviews of Everything here.
About Jennifer O. White
I'm a simple wife who has discovered God's amazing gift of prayer. Here at Prayerfully Speaking I share my journey of unwrapping this gift. God invites us to ask Him, but His enemy works diligently to keep that from happening. I hope to offer you encouragement to believe God is ready to pour more into your life than you've ever imaged.