The Hope of Rest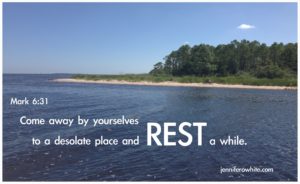 And He said to them,
"Come away by yourselves to a desolate place and rest a while."
Mark 6:31
I just returned from one fabulous week of rest for my mind. While on vacation with my brother's family, I only accessed the internet from my phone. I had time to read, to explore, to play second mate to a 7 year old imaginative pirate, and so much more. The days were filled with people who truly love each other and live for God. And we saw less than 20 strangers for one entire week. It was amazing.
In January, my sister-in-law was inspired to book this time away for all of us. She planned, she saved, and she kept the dream of rest alive while we endured many stressful sad days watching my father fight for his life in the hospital. In the middle of a bad day, she would look at me and Travis and declare a hope of rest.
Rejoice in hope, be patient in tribulation, be constant in prayer. Romans 12:12
The doctors gave dad varied reports of his remaining days. His first trip to the ICU left him with a prognosis of no more than six months. Then months later, one doctor said "Oh yes, Mr. Odom, you could enjoy traveling with the help of a driver for the next two to five years." And the next day, Dad lost the ability to walk and never regained it. His determination to live was amazing and we hoped with him for more life. And we wondered, would that dream of a vacation be possible? Would dad be alive then? Could we hope for a break when he was fighting so hard and oh so sick?
But God knew. He planted the place and time of the vacation in Shanti's mind. Days after my dad's funeral, her dad had quadruple bypass surgery. It seemed like a hurricane of hospitals, doctors, and grief. Again we wondered, would this dream vacation happen? Would there ever be a time of rest for us? But we declared the name of the location to each other on a regular basis. We hoped. We planned.
As we played together last week, we realized our hope was fulfilled. The trip was MORE than we could have asked or imagined. In fact several times we wondered out loud if "this" could happen, and the next day it did. Daily we were amazed that God had gone before us. We praised Him for the amazing things we experienced. Everything seemed to reflect His beauty, His love for us, and His power. He promised and He provided. It was just for us. It's really hard to find words to describe it.
I want you to know that He loves like this. He is intimately involved in providing what He knows you need before you know you need it. He has a plan to help you. He wants you to know Him and His love for you. He wants you to see Him sustain you during really awful times and then bring you to a place of rest.
He is a God of Hope.
God is not man, that he should lie, or a son of man, that he should change his mind. Has he said, and will he not do it? Or has he spoken, and will he not fulfill it? Numbers 23:19
Prayer
Lord, help us listen to You as You shepherd us to endure, to wait, to hope, and to ultimately receive the joy and peace You have waiting for us.
May the God of hope fill you with all joy and peace in believing, so that by the power of the Holy Spirit you may abound in hope. Romans 15:13
About Jennifer O. White
I'm a simple wife who has discovered God's amazing gift of prayer. Here at Prayerfully Speaking I share my journey of unwrapping this gift. God invites us to ask Him, but His enemy works diligently to keep that from happening. I hope to offer you encouragement to believe God is ready to pour more into your life than you've ever imaged.