Truth, Lies & Pesticides
I used to believe things about myself that were as harmful to my body as drinking pesticide. Fear of failure plagued me from the time I learned to make my bed. I perceived conditions on my value. My mood, my relationships, and my physical health were all affected.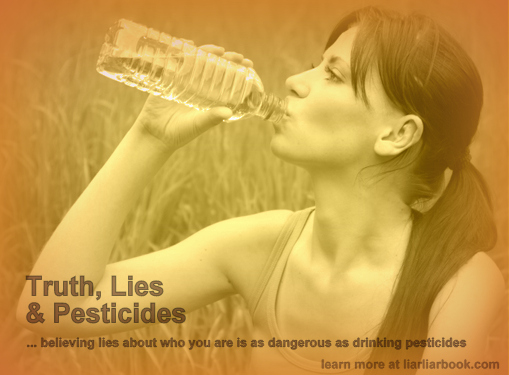 My perceptions based on what I thought someone thought about me equaled truth to me. Can you relate?
Whose opinion of me was truth? The world is full of well-meaning people who have no idea what their own value is. So their truth is skewed and their perception of me and you is skewed as well.
Why am I rambling on and on about this? Because I believed a BUNCH of lies about myself. I agreed with something I thought others thought.I was MESSED UP! I was basing my choices on other's words. It was a ridiculous as grabbing a bottle of Sevin Dust and drinking a swig every day for good health.
What is truth anyway? Who knows the truth? Isn't everybody living out who they think they are supposed to be based on what they were told? or what they think they were told?
In 2003, I finally found someone who knew the truth. A Christian counselor read to me a list of lies people believe about themselves and asked me to tell her which ones I was believing. I answered yes to 75% of her list. So 75% of my life was based on poisonous thoughts instead of life-affirming thoughts. It's no wonder that I had struggled with depression, chronic fatigue, and stomach problems. Not to mention, a failed marriage and a co-dependent personality.
I am so thankful someone showed me the truth (my Creator's truth about me) verses the lies. My life is radically different today because this happened. I have joy and peace now. Before this transition in my thinking, I only knew how to use those words in a sentence. I had not experienced them for myself. This past weekend, a friend I've known for a few years described me as love and joy. That is the new Jennifer. The Jennifer who believes what God says about her.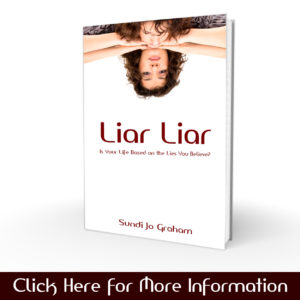 My friend Sundi Jo has met the truth too. She shares her story in her brand new manifesto, Liar Liar, now available on Amazon.com.
I just read it and I love it. Her writing style is as fun as she is in person. Learn how the truth set her free from a young life filled with heartache. Physically she lost 145 lbs. And emotionally, she lost so much more that was weighing her down.
If your life hasn't been peaceful, you might be guilty of lying to yourself about who you really are. If you get stuck in your goals easily and even seem to sabotage your dreams, I recommend you read Liar Liar. It could help change the direction of your life or the life of someone you love dearly.
For more information about this eye-opening  piece, go to LiarLiarbook.com. 
About Jennifer O. White
I'm a simple wife who has discovered God's amazing gift of prayer. Here at Prayerfully Speaking I share my journey of unwrapping this gift. God invites us to ask Him, but His enemy works diligently to keep that from happening. I hope to offer you encouragement to believe God is ready to pour more into your life than you've ever imaged.