One Simple Prayer that Leads to Victory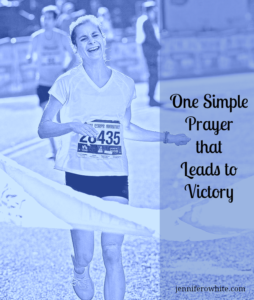 I am passionate about exposing the spiritual battle going on behind the scenes of our lives. I think it is imperative to know that we are not wrestling against flesh and blood but against the evil forces at work on the earth. The strongholds of depression, anxiety, addiction, abusive behavior, mental illness, relationship problems, attention deficit disorder, etc. are evidence that our enemy is not resting on his laurels.
The Great News
Jesus won the battle for us. He is our victorious King. We belong to Him. The Spirit of our triumphant Lord is infixed in us. And so we are "more than conquerors through Him who loved us."
At Easter we sing, "It is finished. The battle is over." We celebrate that Jesus made a way for us to live with God in this life and throughout all eternity.
According to Isaiah 61:1 (AMP), Jesus is anointed and qualified by God to:
Preach the Gospel to the meek, poor, and afflicted.
Bind up and heal the brokenhearted
Proclaim liberty to the (physical and spiritual) captives
Open the prison and the eyes of those who are bound.
Jesus offers help and the hope of wholeness to those of us who see ourselves in that list.
The Battle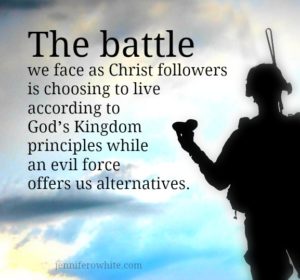 The battle we face as Christ followers is choosing to live according to God's Kingdom principles while an evil force offers us alternatives. We have a Savior actively pursuing us and interceding for us. But we also have an enemy, known as the Accuser, the Tempter, and the Father of Lies. His plan is to kill, steal and destroy the ones that Jesus loves (1 Peter 5:8).
Jesus is the light of the world. He promises that if we follow Him we will not walk in darkness (John 8:2). Satan masquerades as an angel of light offering to enlighten us with distorted ideas of the good life (2 Corinthians 11:14). He specializes in packaging destructive choices and presenting them as the path to sweet relief.
The Victory
Jesus teaches us to ask, seek and knock when we need His help (Matthew 7:7). He offers us wisdom and revelation so we can grow in the knowledge of God (Ephesians 1:17) He is the Word that became flesh so we can know the truth about God and recognize the evil options when they are presented to us (John 1:14).
We need to simply ask God to reveal how we are cooperating with the enemy. click to tweet
Chances are we have unwittingly followed the advice of some half-truths. I know that I have. God, who chases us down offering His goodness and mercy, has found ways to reveal the difference between what I believe and what He actually said.
God has answered this simple prayer for me in the past week. In the stillness of traveling to Houston, I got emotional about all of the trips to Houston I made with my dad in the last months of his life. Each time we drove four hours to get him to his doctor. Almost every trip was urgent and sometimes meant days in ICU. He died there in May of 2013.
On the drive, God helped me recognize the root of a very unhealthy pattern of stuffing my emotions. For the first time, I realized I was telling myself to resist the urge to be upset because it could ruin my trip. I also coached myself to be stronger than other people who would allow themselves to weep in this moment.
Somewhere in life, I fell for the lie that I could not express my emotions because I needed to be strong. God who created me to experience emotions did not tell me that I couldn't cry or be sad. But I've been living that way and my body and my mind have paid the price for decades of unexpressed emotions.
Jeremiah 17:9 says, "the heart is deceitful above all things, and desperately sick; who can understand it?" In other words, I should not let my heart rule me. I can't base my life decisions on my emotions. But I can permit those emotions to be expressed. I can admit to God that I feel terrible and ask Him to minister to my broken heart.
The Rehabilitation
God is ready to renew my mind. He is my source of help and my wonderful Counselor. I trust that He is ready to coach me into a healthy response to my negative emotions. I have been specifically asking him to change my automatic reactions that are unhealthy.
God is not waiting to shake His finger in our faces for cooperating with His enemy. He sent us a Savior to rescue us from the bad guy. He desperately wants to see us set free.
Our Messiah is able to deliver us from evil and into freedom. Our responsibility is to ask and wait with the faith of a mustard seed that He will answer.
How are you experiencing victory as a result of simply praying and asking for God's help?
About Jennifer O. White
I'm a simple wife who has discovered God's amazing gift of prayer. Here at Prayerfully Speaking I share my journey of unwrapping this gift. God invites us to ask Him, but His enemy works diligently to keep that from happening. I hope to offer you encouragement to believe God is ready to pour more into your life than you've ever imaged.