When You Don't Know What to Pray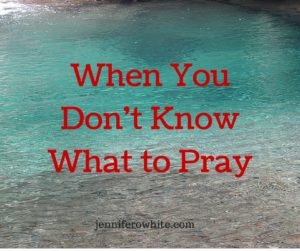 Last week, I was at a loss for words when it came to praying for a friend. Have you been there?
Thankfully, Jesus knows exactly what to pray in these moments. He knew I didn't have words, so He gave me vision of how to pray.
The person I wanted to pray for has more than one illness that affects his brain. The picture God gave me was of my hands holding this man's head and letting it soak in a pool of healing water.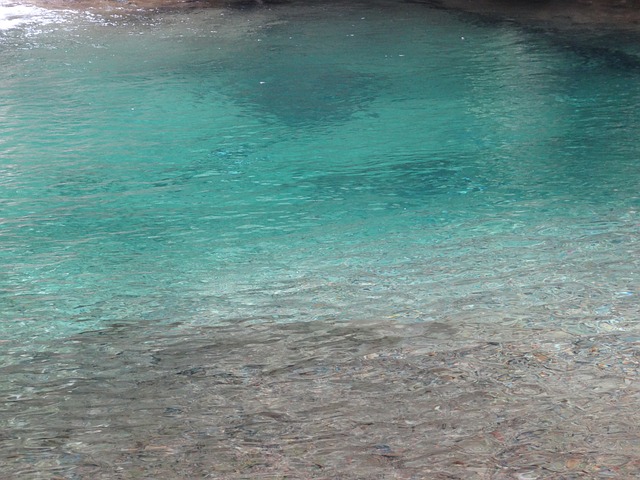 The water represented God, the Healer and the living Water.(Jeremiah 2:13, 17:14; John 7:38)
Holding his head was a picture of intercession. It is reminiscent of the four men who carried their frail friend to see Jesus and even made a hole through the roof to get him in front of Jesus. (Luke 5:19) It is my simple role in the process of praying for him.
Isn't it beautiful!? The thought of soaking in the healing waters of our Lord is calming, refreshing, and assuring.
The Battlefield of the Mind
This prayer picture can be used when praying for anyone who is struggling in life.
Remember Romans 8:6 says, "For to set the mind on the flesh is death, but to set the mind on the Spirit is life and peace." When pray for ourselves or someone else using this image of soaking in God's healing, we are bringing them to the Spirit of life and peace.
People may resist God and resist our words about Him, but they are powerless against our prayers.
Men may spurn our appeals, reject our message, oppose our arguments, despise our persons – but they are helpless against our prayers. ~J. Sidlow Baxter
Our mind is the battlefield. Spiritually bathing one's mind in the perfect love and power of Jesus Christ can reduce the resistance.
I believe God is able to use this prayer for His glory to do exceedingly and abundantly more than we know how to ask of Him. (Ephesians 3:20) He offered this prayer to me when I did not know what to ask of Him.
The mind of an intercessor is certainly in the battle. Satan may work to steal our words, but God triumphs over that scheme with a simple and powerful alternative. For me it was an image, what will it be for you? A song, a word, a Scripture, something else?
Whose head will you prayerfully soak in God's healing waters?
As you take the time to pray this way for someone, be still and listen. God may have more to say to you or show you about what is He is doing or what else He wants you to do to partner with Him in the healing process.
More Prayer
For more prayer inspiration on what to do when you don't know what to pray, click here.
About Jennifer O. White
I'm a simple wife who has discovered God's amazing gift of prayer. Here at Prayerfully Speaking I share my journey of unwrapping this gift. God invites us to ask Him, but His enemy works diligently to keep that from happening. I hope to offer you encouragement to believe God is ready to pour more into your life than you've ever imaged.