The Many Ways We Praise Him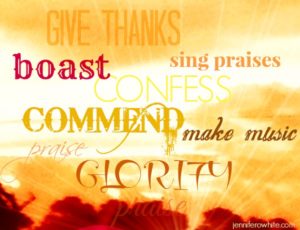 I am grateful to Dave Jenkins, director of Servants of Grace Ministries for contributing today to our Praise Him! series.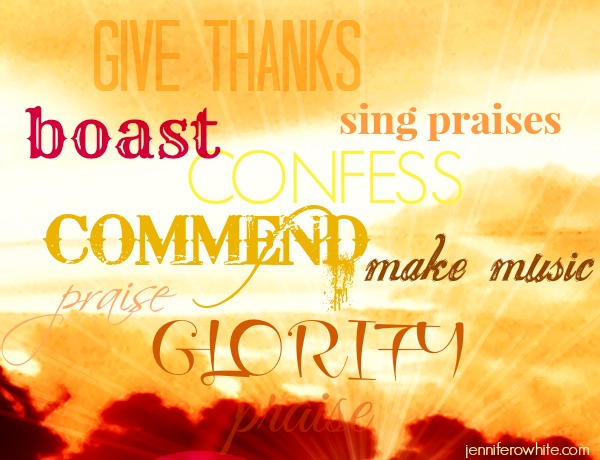 Praise is….
To praise God is to ascribe Him the glory due to His name.
There are a variety of Hebrew words used to bring out the meaning of praise. For example in Psalm 118:28-29 the word praise is the Hebrew word yadah which means to praise, give thanks or confess.
There are two different Hebrew words for "praise" in Psalm 149:3, "Let them praise [halal] His name with the dance; Let them sing praises [zamar] to Him with the timbrel and harp." Halal means to praise, glorify, boast, commend, etc., and zamar means to make music or sing praises.
Where or when in your life could you add more praise to God? 
Worthiness
To praise God is simply to recognize Him for who He is and lift high the name of the Lord.
The Psalmist recognized that God is God and he as a man. To praise God is to worship God. The word worship comes from the older word worth-ship (or worthiness) which means to give, at its simplest, worth to something. When we praise God we are ascribing to Him the glory due to His name. We can praise God through dance, prayer, proclamation, studying God's Word, and so on. The point of praise is to worship and adore God. Martyn Lloyd-Jones helpful notes, "Adoring God for being what He is, is the very essence of Christian worship and of Christian praise."
Prayer: 
May we speak more of Your praises, Lord, and less of our own.
Let's Praise Him Together!
What is your favorite song or hymn of praise to God?
Share it with us in the comment section below.
About Jennifer O. White
I'm a simple wife who has discovered God's amazing gift of prayer. Here at Prayerfully Speaking I share my journey of unwrapping this gift. God invites us to ask Him, but His enemy works diligently to keep that from happening. I hope to offer you encouragement to believe God is ready to pour more into your life than you've ever imaged.