We are Instruments of World Victories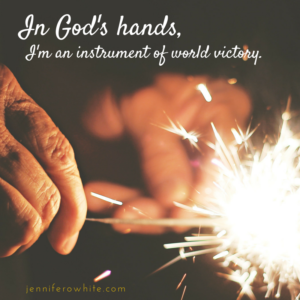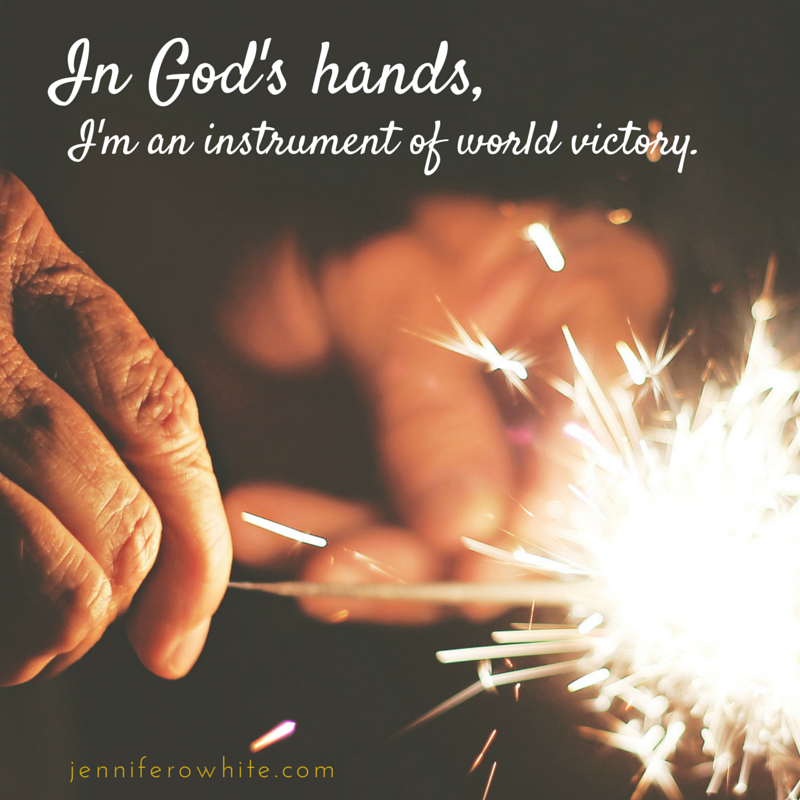 Who inspires you to courageously tackle mountains believing God will throw them into the sea for you?
In the last post, I wrote about a wife who had been praying for her husband twenty seven years and then found herself praying next to his "dead body" for thirteen hours. (here's the story) Her tenacity and God's faithfulness to answer her prayers has given my faith much deeper roots. And it has me taking a good hard look at how willing am I to be God's instrument of victory in the lives of others.
Today, I'm marveling at Joshua and his battle against five kings and their armies (Joshua Chapter 10). Not just one, but five kings were unified against him and the Israelites.
Before the battle ensued, God told Joshua that he would win.
The LORD said to Joshua, "Do not be afraid of them; I have given them into your hand. Not one of them will be able to withstand you."  vs. 8
God encouraged Joshua that victory was a sure thing because it depended on God, not on him.
Then God creatively used a hailstorm and a state of confusion, to aid Joshua and his army in this remarkable victory. In the midst of battle, Joshua actually told the sun to stand still and God made it happen. Seriously, God stopped time because Joshua asked! ( vs 13-14) That is a mountain being thrown into the sea miracle!
Five kingdoms fell that day and God's kingdom stood strong. The unseen God employed Joshua, a faithful and righteous servant, to accomplish His will. Joshua's response to God's leadership resulted in a world-changing victory.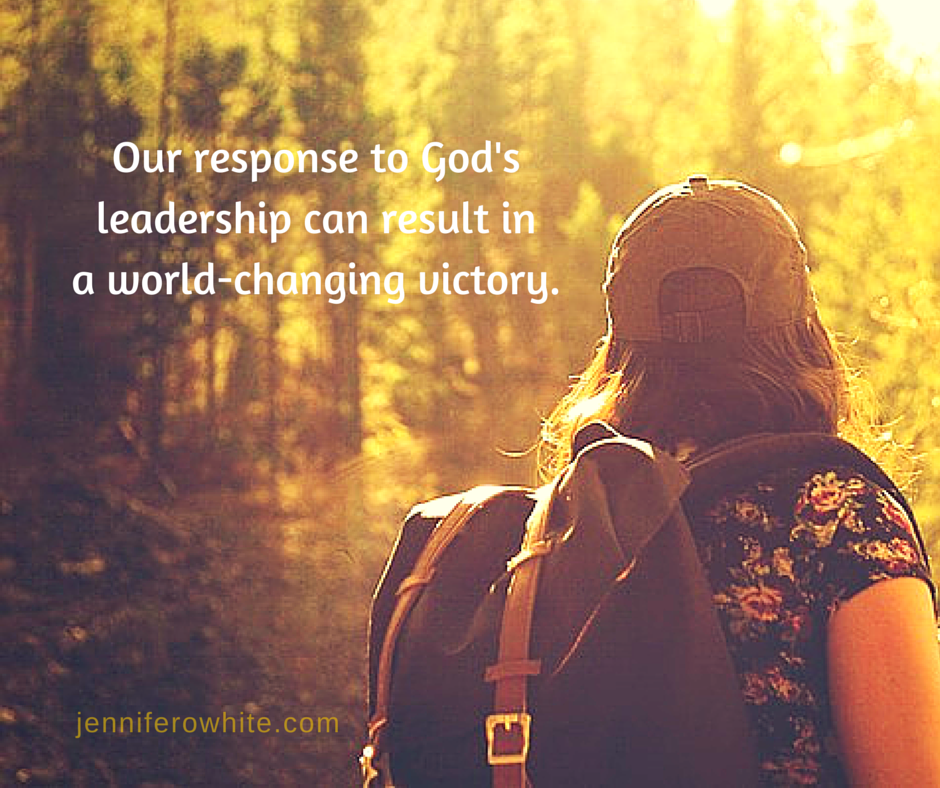 Greater Works Than These
When Jesus announced His plans to return to God, the disciples needed their own "do not be afraid" encouragement from Jesus. They were reacting in fear that they would become vulnerable and powerless without His presence. Jesus responded to their fears with this great promise:
"I tell you the truth, anyone who believes in me will do the same works I have done, and even greater works, because I am going to be with the Father. You can ask for anything in my name, and I will do it, so that the Son can bring glory to the Father.  Yes, ask me for anything in my name, and I will do it!" John 14:12-14 NLT
The disciples would no longer see Jesus speak to a storm and tell is to be still. But according to Jesus, His Spirit in them would be available to accomplish the same life-saving miracle and so much more.
Their upcoming successes would be in partnership with His Spirit. Their role was to courageously ask and act with faith. According to God's Word, faith is the Victory!
For everyone who is born of God overcomes the world. And this is the victory that has overcome the world – our faith. 1 John 5:4 ESV
Faith in God was Joshua's contribution to the battle. God spoke, Joshua believed, acted, and everything changed. It was God's mighty power at work in Joshua that defeated five kings and caused the sun to stand still (Ephesians 3:20). All of this happened for God's glory, not Joshua's.
Joshua saw victory within days of God's promise. He was empowered by God to lead with great confidence.
The wife who prayed for her unsaved husband waited twenty-seven years and endured his literal death before seeing God's promise to save him. She was empowered by God to pray and to endure those years with great faith.
God used both of them to demonstrate His love, His power and His faithfulness to His Word. And He is empowering us to do the same.
It has taken me two weeks to write this because I am wrestling with my own lack of faith in action. I'm not saying I'm faithless. But now, I'm more aware that I have the privilege of being God's instrument of world victory and I'm wondering what am I waiting for. 
I've confessed to God my lack of confidence in Him and myself. I've also realized some of my cowardice reflects my own lack of love for other people.
I do not want to stay the same. I want to honor God by living out the "even greater works" He wants to do through me. And I want to do it with so much love in my heart that there is no room for fear.
I am pursuing a breakthrough so that I will be a ready instrument of God's victory by asking and answering the following nine questions:
1. What ignites fear within me and what does it say about my faith in God?
The imagination of harsh words coming from someone who would disapprove of my faith. I have a long history of bowing to this spirit of intimidation. I am SO ready to see this mountain thrown into the sea!
2. Do I act on the truth that God can triumph over every scheme the enemy launches in my life and others? If I don't then, why not?
I say it and I believe it is true. Sometimes I invite Him to triumph over the enemy, without waiting with great assurance that He will.
3. Why am I not as brave as Joshua, the early church, and the praying wife?
Perhaps I need to hear more people share their true accounts of God moving mountains in their lives. I can read the Bible and many books to get this. No excuse not to start reading today.
I need to see my fears and confess them instead of hiding behind them.
4. Am I listening to God and responding to what He is telling me about the current situation?
Yes but not always. When I document what He says to me, I find myself more likely to remember and act on it. Journaling, praying and talking to someone about it increases my likelihood of following through.
5. How bold are my prayers? Am I praying "sun stand still" prayers and do I believe He will answer them?
My prayers are getting bolder. Today I prayed an audacious prayer for God to bless everyone that encounters a specific traffic intersection. I asked that He give each person who passes through it a greater awareness of Him and perform miracles for them right there. It sounds like an odd request, but I know He can and I believe He is honored that I believe that He can.
6. Whose life would change dramatically if I courageously fasted, prayed, spoke up, served, and worshipped at the prompting of the Holy Spirit? How many generations would be impacted by that one changed life?
I'm writing a list of at least 10 people right now.
I just learned that our acts of righteousness last forever (Psalm 112:3) so there is no end to the number of generations that would be affected by my obedience to God.
7. Do I love myself and others enough to move beyond a small faith and big fears?
God has been revealing to me that I tend to self-protect in relationships and that leads me to love less freely. So I am learning to love more and I know it will greatly impact my acts of faith.
God has recently revealed self-hatred to me and I have confessed it to Him and asked for healing. Healing is happening. Maybe this post is part of that healing.
8. How much more joy would I experience if I continually lived in response to God's Word and the Holy Spirit's prompting?
I find joy in His presence because He is joy (Psalm 16:11). I experience great joy when I witness His hand at work in my life and others. Being used by Him is a great joy. So the more available I am to Him, the more joy I will have.
9. Am I willing to settle for anything less than a vibrant partnership with God?
I surely don't want to waste anymore of my life on fallacy of fear when I know that God can do so much more with my faith.
How would you answer those questions?
You and I are designed by God to be instruments of world-victories. With faith in Him, we are as useful to God as Joshua, the disciples and the praying wife. The specific assignments are ours to discover as we make ourselves available to God.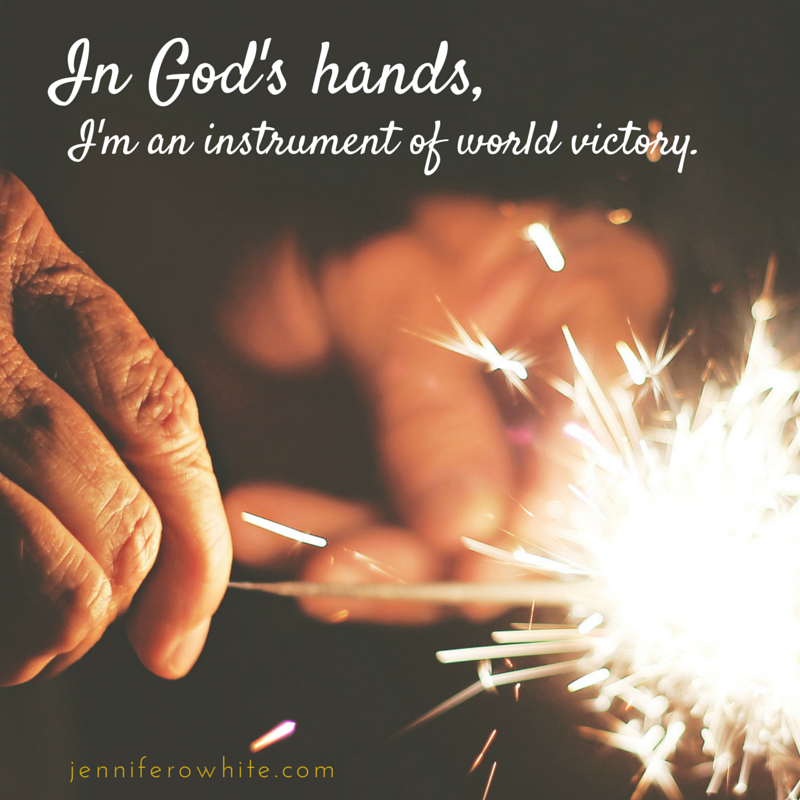 Our world needs many of God's victories right now. Let's press in and fulfill our God-ordained roles so MANY will see the goodness of the Lord in the land of the living.
May God fill us with Jesus' faith and find us exceedingly more willing to be His instrument of life-changing, marriage-transforming, world-altering victory.
How has God used you this year to change a life?
About Jennifer O. White
I'm a simple wife who has discovered God's amazing gift of prayer. Here at Prayerfully Speaking I share my journey of unwrapping this gift. God invites us to ask Him, but His enemy works diligently to keep that from happening. I hope to offer you encouragement to believe God is ready to pour more into your life than you've ever imaged.